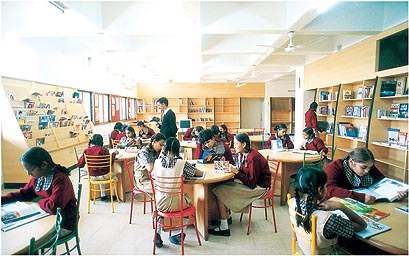 Library facilities
Extra-curricular activities will include:
traditional dance classes
personality development classes
summer vacation camps
music classes
mannerism and values classes
special celebrations to mark cultural and religious festivals, such as, Ram Navmi, Janmashtami, Diwali, Guru Purnima and others to educate children about India's glorious tradition and culture.
THE PROPOSED RESIDENTIAL SCHOOL COMPLEX
As the third phase of growth, a proposed residential school complex for students of standard five onwards is being planned on an 11 acre site, near the present school, on Wathoda Ring Road. Incorporating all the latest ideas and techniques of education, it will create an all-comprehensive, exclusive environment for learning.



Fancy dress


Computer classes


Traditional music training


Traditional dancing


Outdoor sports