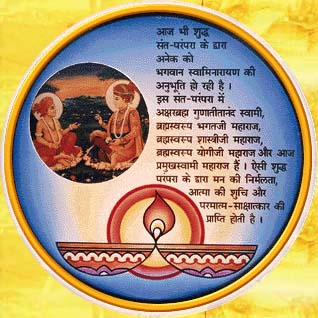 Even today, through the spiritual hierarchy

of Brahmaswarup Saints, many are

experiencing the divine presence of Lord

Swaminarayan. In this hierarchy of Saints

are: Akshar Brahman Gunatitanand Swami,

Brahmaswarup Bhagatji Maharaj,

Brahmaswarup Shastriji Maharaj,

Brahmaswarup Yogiji Maharaj, and

presently, Pragat Brahmaswarup

PramukhSwami Maharaj.



Through this enlightened hierarchy, the

mind is purified,the Atman is cleansed and

God-Realisation is attained.





Page 21 of 25