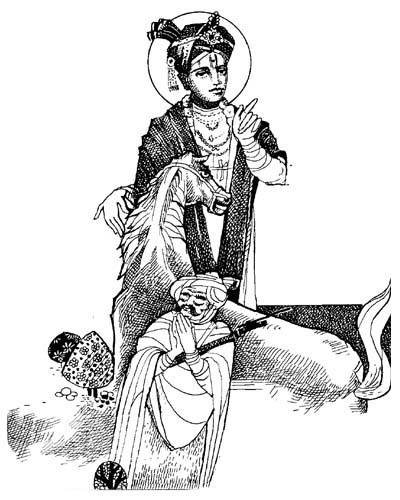 The notorious dacoit Joban Pagi once tried to steal the swift mare of Lord Swaminarayan. However, the devine presence of Swaminarayan by the side of every horse in the stable changed his heart and he surrendered at His feet. The rosary replaced the sword. Kashiyabhai of Vaso asked him, "Does Swaminarayan make gold out of dross?" Joban Pagi at once replied, "Yes. I was a dacoit and He has made a devotee out of me."
Vero was another such dacoit who underwent total transformation due to the Lord's charisma. Once he picked up a datan stick from somebody's farm. Then he remembered that picking up anything from a farm without the owner's permission amounts to theft. He at once returned the datan stick to the owner and apologized sincerely for the folly.
These incidents bear living testimony to the high degree of morality fostered by Lord Swaminarayan among His disciples.