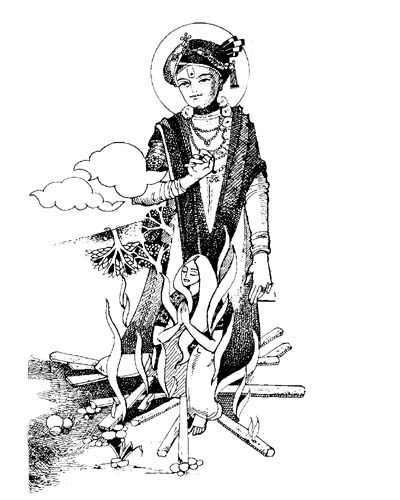 Foremost Champion of Women's Emancipation
In times of famine and catastrophe Sahajanand Swami started free food distribution centres and dug wells, lakes, etc., to provide the basic needs of food and water. He eradicated female infanticide and the practice of Sati (self-immolation by a woman on her husband's pyre). He replaced the lewd songs sung during marriage ceremonies with the more dignified songs like 'Radha-Vivah' and 'Rukmini-Vivah'. He eradicated the brute and vulgar behavior that prevailed during the Holi Festival and revived morality and spirituality. The reforms introduced by Him not only appealed to the educated elite, but also left their indelible mark on the people belonging to different faiths, even among Christian missionaries. Justice Ranade has rightly epitaphed Him as the 'Last of the Hindu Reformers'.
However, the social reforms He had spearheaded were mere specks in the vast ocean of work done by Him as the Supreme Godhead.