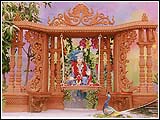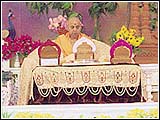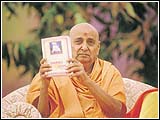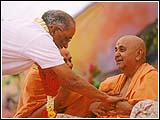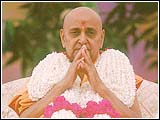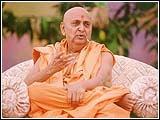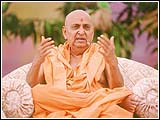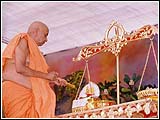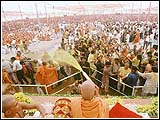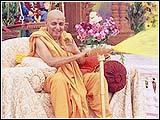 It was an awesome, colorful celebration of spiritual joy and enlightenment. The experience of being drenched at the hands of Swamishri was the climax and ultimate moment for thousands of devotees who came from far and wide.
The program commenced in the serene hours of the morning when Swamishri performed his daily worship. The bhajans of Holi and Vasant by the sadhus enriched the atmosphere. A beautiful backdrop created a natural spring environment, lush with artificial flowers, hedges, trees and birds. A cascade of water gently weaved down a small mountain. An image of Lord Swaminarayan on a swing and Swamishri performing his puja added life to the colorful stage.
A steady stream of devotees flowed into the assembly hall, starting from as early as 6.00 am. Many had left as early as 1.00 am or 2.00 am, some at 4.30 am to reach Sarangpur. They travelled by coaches, cars and vans.
After Swamishri's puja the main assembly commenced at 8.00 am. The speeches by senior sadhus set the tempo for the occasion. The history and significance of Fuldol and the purpose of sprinkling colored water was elaborately explained by the senior sadhus. The intermittent singing of bhajans gave a devotional and emotional flair to the occasion.
Swamishri performed the opening ceremony of several new audio, video and print publications:
1. 'A Handbook to the Vachanamrutam' (English) by Sadhu Mukundcharandas.
2. 'Vachanamrut Rahashya' (Gujarati) by Sadhu Brahmadarshandas.
3. Yogiji Maharaj Ki Bodhkathae (Hindi) : Shri Yogendraprakashji
4. Shikshapatri (audio): Sung by professional singers.
5. Satsang Darshan (Video): Vicharan of Swamishri.

The arrival of Dr. Subramaniyam, who had performed the bypass surgery of Pramukh Swami Maharaj, evoked a feeling of surprise and admiration. After being welcomed and garlanded by Swamishri Dr. Subramaniyam said, "God's greatest gift to me, Lord Swaminarayan's greatest gift to me, was in July last year when I operated on Pramukhji. It was a divine moment when I met Pramukhji for the first time. Two things impressed me when I met Pramukhji and which my father taught me. The first is karma - do your duty. The second is that we are born to give. I am sure that Pramukhji enlightens you all of this. I am here as a servant and I am delighted that Pramukhji is well to be with us today."
Dr. Nilesh Patel, who assisted Dr. Subramaniyam during Swamishri's operation, was also welcomed and honored.
Swamishri was then garlanded by senior sadhus. In blessing the 35,000 devotees in the assembly Swamishri said, "We are celebrating a divine festival. Bhagwan Swaminarayan celebrated this festival in Gadhada and other holy places. He had also celebrated the Fuldol festival here in Sarangpur, spraying colored water on the devotees. Shastriji Maharaj too, after establishing this mandir, celebrated this festival here... Getting sprayed with colored water is a physical event... but the essence and message of the holy great behind this is that we should get colored from within. When our clothes get colored we become physically purer, our senses get purer and our soul becomes purer. To get colored spiritually means our life becomes God conscious, we are inspired to offer devotion to God and to serve others - this is the message behind this festival of colors.
"God sprayed the colors to transform our feelings, our inner colors, and to increase our devotion for Him. The Holi festival and the festival of Fuldol have been prescribed by our scriptures.
"We should have an aim or direction in life. We don't know what is the purpose of this human life. The incarnations of God and the great holy sadhus descend on this earth to show the true goal and means of fulfillment in life... Our goal is not to eat, drink and be happy and indulge in worldly pleasures. Our goal is God and Satsang... to become attached to a God-communion sadhu and tread the path of Satsang... To please God, to walk the path of dharma, to develop love for the devotees and attachment for a God- communion sadhu - this is the goal of life...
"We have to do our duties in life but all our actions do not lead us to moksha. They do not lead us to God... So in the Shikshapatri Maharaj has said, "Nijatmanam brahmaroopam..." One should realise oneself as the atman (soul) and then offer worship to God."
After Swamishri's blessings the countdown for the moment everyone had been waiting for began. A wave of excitement and eagerness to be colored swelled in every heart. 35,000 devotees were charged for the final moments.
Firstly the murti of Harikrishna Maharaj was honored by a few devotees.
Thereafter Swamishri sprayed some fragrant colored water on the image of Harikrishna Maharaj. Dr. Subramaniyam and Dr. Nilesh also sprayed colored water on Harikrishna Maharaj. Then Swamishri squeezed and sprayed the colored water on Dr. Subramaniyam amidst claps of appreciation from the devotees. Dr. Nilesh, Shri Bhupendrasinh Chudasama, Minister for the Narmada dam project and Shri Ashok Bhatt, the Health Minister, also received the spray of colored water from Swamishri.
Swamishri then sprayed the fragrant holy water on the devotees. The rhythm and devotion of the bhajan: 'Vartal gaam fulvadiyae Hindolo Ambani dal' and subsequent devotional songs by the sadhus energised the atmosphere. For nearly two hours Swamishri sprayed the devotees with the colored water. Each and every devotee returned blessed and overwhelmed with a spirit of sheer joy and memories of an unparalleled occasion. The Fuldol program ended at 1.30 pm.