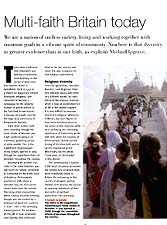 The Millennium Commemorative Album, from UK, illustrates Britain through 19 different themes: The Story of Time, A Century in A Moment, Faith, Medicine, Health and Beauty, Sport, Food, Work, The Dome at Greenwich, Money and Trade, Exploration and Travel, Mind and Invention, Education and others.
It brings alive some of the many facets of life in Britain in the last 1000 years, in letter and colourful photographs, to help understand its heritage and future.
On page 40, in 'Multi-faith Britain Today', Michael Ipgrave describes the spiritual communities and faiths in Britain. The four-page article includes a colour photo- graph and write-up of the prestigious Swaminarayan Hindu Mandir. After mentioning the transformation of a church to a mosque in Spitalfields (London) Michael Ipgrave writes: "Eight miles further north-west travelling through the quiet streets of Neasden you might suddenly glimpse an enormous, glistening palace of white marble. This is the magnificent Swaminarayan Hindu temple, opened in 1995 through the committed efforts of devotees through the country."
Publication: The Official Commemorative Album for the Millennium
Published by: Citroen Wolf Communications, London
Total Pages: 304