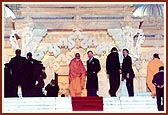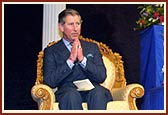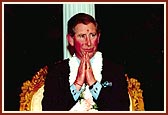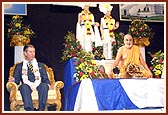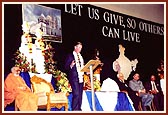 ON 5 MARCH 2001, AT THE SHREE SWAMINARAYAN Mandir, London, His Royal Highness Prince Charles, The Prince of Wales launched the BAPS Swaminarayan Sanstha's 'Sponsor-A-Home' scheme for the rehabilitation of earthquake victims.

Before an audience of over 3500, which included the High Commissioner of India, Nareshwar Dayal; members of the British rescue team, Rapid UK; Captain Minesh Patel, co-ordinating member of the British Airways "Flight of Mercy"; representatives of many Indian organisations, many leading businessmen and many members of the public, HRH Prince Charles said,
"Ladies and Gentlemen, I am so glad to have this opportunity to be with you again here this evening. The last time I was here, I think it must have been five years ago now, was a joyous occasion. This of course, sadly is not joyous because apart from anything else I wanted to be with you this evening. I wanted to be with the Gujarati community here in London and with so many of you, to join with you to express my deepest sympathy above all else for those who have lost loved ones and relations and like many here who I know have suffered terribly from this great tragedy which has afflicted Gujarat. And so I understand just what you must be feeling. So my heart goes out to them, to the Gujarati community in the UK and to those injured, homeless and deprived of everything in life. And above all my heart goes out to all of you here this evening, because the 26th of January this year will be remembered as a black day by the people of India and by all like myself who care for India and who have a deep affection for that country.

"We have heard already this evening about the cost that is being borne by so many people in India - perhaps a million people homeless, some 150,000 people killed or maimed, towns and villages destroyed, communities shattered, lives totally uprooted. The destruction is almost unimaginable to those of us who see it perhaps only through television screens. But despite all this we know and have heard just what a remarkably generous and immediate response there has been from people all around the world but particularly of course from here in Britain and it has been wonderful to hear just how generous that response has been. And I have met some of the volunteer teams outside before I came in, who I know have raised enormous amounts of money in every conceivable different way. And I wanted to take this opportunity to congratulate and thank them for so much of what they have managed to do for the last three weeks.

"But I particularly want to, if I may say so, to commend the Swaminarayan Hindu Mission here in Neasden for its truly remarkable role not only in working closely with other aid organisations such as Sewa International and the International Red Cross not to mention the remarkable response from our own Department For International Development. But the Hindu Mission has provided an extraordinary example of rapid and practical assistance without any administrative cost which is the truly remarkable part.

"Ladies and gentleman, I have read with mounting admiration of all the food, the blankets, the fuel and cooking materials that have been distributed by the 4,500 volunteers and 180 holy men working on the ground. With the Swaminarayan Movement alone feeding nearly 30,000 people a day in the worst affected areas. This is, in any event, a remarkable achievement and one which again I wanted to share with you and to congratulate you about again with all my heart.
"As we have also heard, the Hindu Mission has launched a programme to deal with the longer term needs of the people for when the immediate crisis is forgotten. And of course we must remember that in the past the Mission has provided amazing relief work for instance in 1987 in the famine in Gujarat, the 1993 earthquake in Maharashtra, the flood in Surat in 1998, the 1998 cyclone that devastated the west coast of Gujarat and of course following the Orissa cyclone in 1999. Again the Hindu Mission was immediate in its response and in its remarkable effectiveness.
"So, today, the 'Sponsor-A-Home' scheme is I think a wonderfully imaginative and essential response designed rapidly to reconstruct communities and to enable them to start rebuilding their lives. And I am delighted if I may to be able to announce today that as part of this scheme, my own charitable foundation will provide a new primary school of 5 classrooms to be built in one of the worst affected areas.
"So ladies and gentleman, I just wanted to say that everyone here can do their own bit. You have done so much already I know, but as you know the need is enormous and continuing. So, I am delighted to be here this evening. I hope to help encourage further support. So, a small house under the scheme costs just under £2,000. It will not take many donations, however small, before new roofs of hope can begin to go up in Kachchh and Saurashtra and the other devastated districts. A catastrophe of this sort is a terrible experience but I think it also, and I can see this only too well, it also has the capacity to bring people together as never before and now is that time.

"So, ladies and gentlemen, I am so grateful to you all for being here this evening for giving me such a warm welcome, a welcome which I remember from last time and which makes such a difference I can assure you, which has warmed my heart. And I am enormously grateful to the Swami for his kind invitation to be here this evening. Thank you ladies and gentlemen."