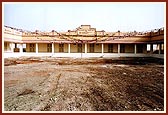 Primary school at Bhadreshi reconstructed by BAPS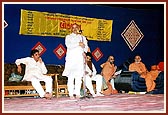 Shri I.K. Jadeja addresses the Dedication Assembly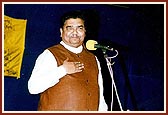 Shri Fakir Vaghela addresses the Dedication Assembly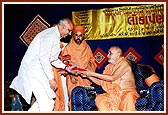 Swamishri blesses Shri I.K. Jadeja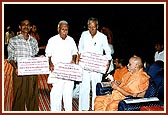 School representatives receive name plates from Swamishri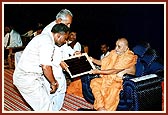 School representatives receive name plates from Swamishri




With the blessings and guidance of Pujya Pramukh Swami Maharaj, Bochasanwasi Shri Akshar Purushottam Swaminarayan Sanstha (BAPS) is currently active in a wide range of earthquake rehabilitation services.
Yesterday evening, a special dedication assembly was held at Jawahar Chowk, Surendranagar, in which 18 schools reconstructed by Bochasanwasi Shri Akshar Purushottam Swaminarayan Sanstha (BAPS) were presented to the people by Pujya Pramukh Swami Maharaj. Over 8,000 people were present in the assembly in which Pujya Pramukh Swami Maharaj presented the name plaques of the reconstructed schools to the school and village officials of each respective school.
At the beginning of the assembly, Pujya Viveksagar Swami gave a comprehensive report of the earthquake relief work carried out by BAPS Swaminarayan Sanstha in Kachchh, Rajkot and Surendranagar. He said, "This Sanstha has undertaken permanent rehabilitation work on a large scale. BAPS has adopted 9 villages, 43 primary schools, 6 secondary schools, a large colony in Bhuj and a cultural centre for rehabilitation."
Then 4 of the 18 school principals present were selected to address the assembly. They said that Pujya Pramukh Swami Maharaj agreed to reconstruct their schools without a moment's delay. At that time Swamishri was in the Middle East and our request was made by fax. From there, Swamishri adopted our schools and initiated the reconstruction work. Thereafter, the principals, teachers and village officials representing each of the 18 schools received the name plaques of their respective schools at the hands of Pujya Pramukh Swami Maharaj.
On this occasion one of the honourable guests, State Minister Shri I.K. Jadeja, said, "The district of Surendranagar is very fortunate since Pramukh Swami Maharaj, who is revered worldwide and inspires noble values in people throughout the world, has presented these schools which will be centres for value-based education. Now it is necessary for the people of Surendranagar to use these schools to provide a value-based education."
On this occasion, honourable guest, State Minister Shri Fakir Vaghela said, "First I thank Pramukh Swami Maharaj for reconstructing 18 schools for this district. It seems that he has transformed our difficulties to provide us an opportunity. Swamishri's sadhus are highly educated. Many are from England and America. That such sadhus have renounced the world and are engaged in this earthquake relief work to serve us is no ordinary matter. I have seen many of the Sanstha's mandirs, met many of the sadhus and know Swamiji personally. That is why I say that these schools will be centres for learning values."
Shri Vaghela explained the significance of the date – Vaishakh Sud 5 – on which Adi Shankaracharya, Chhatrapati Shivaji Maharaj and poet Balashanker Kanthariya were born. On such an auspicious day, this dedication assembly was held. He also sought the blessings of Pujya Pramukh Swami Maharaj for peace and unity throughout Gujarat.
Blessing the assembly, Pujya Pramukh Swami Maharaj said, "God is very merciful. From Him we learn to be compassionate and due to His grace this work is possible." Swamishri especially thanked the donors and blessed that they are able to continue to support such noble work. He also thanked the villagers, officials and contractors who helped in the reconstruction. Also, Swamishri blessed, "May the children who study here also gain noble virtues, pride for their country, become ideal citizens and increase the prestige of our state and country. May they keep dharma and God at the forefront in all their work. Just like Arjun had kept the strength of God at the forefront and won, may the students all become like Arjun."
Swamishri also expressed pleasure at the news given by the two ministers that the height of the Narmada Dam will be raised to 95 feet. Swamishri commented that the water needs of Saurashtra will now be satisfied.
At the conclusion of his blessings, Swamishri said that our Dharma places great emphasis on compassion. So with compassion any difficulty can be faced. Bhagwan Swaminarayan has said just this in the Shikshapatri. He has also told us to build centres of education for imparting knowledge.
Also present on this occasion were local MLA Shri Dhanraj Kela, the District Collector and representatives of the donors.