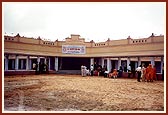 As part of Pramukh Swami Maharaj's ongoing earthquake rehabilitation project in Kutch, the Bochasanwasi Shri Akshar Purushottam Swaminarayan Sanstha (BAPS) has accomplished another milestone in dedicating 14 newly built schools during a ceremony in Ravapar and Anjar on 17 and 19 June 2002 respectively.
One of the 14 schools was inaugurated with Vedic rites by the chief guest - Honorable State Home Minister Shri Gordhanbhai Zadaphiya - and Pujya Siddheshwar Swami of the BAPS.
In his address to an assembly of 3,000 people, the Home Minister said, "We do not want to build educational complexes that produce mere graduates in B.A., B.Com. or B.Sc. To produce children and youths of shining character we need to introduce value-based education. It is a matter of great joy that such a task is being done by Pramukh Swami Maharaj. Prevention is better than cure. Today we strive to abolish violence, terrorism, corruption and other vices but if we provide character and values in our educational curriculum then we will not be faced with such evils."
Pujya Siddheshwar Swami blessed the assembly by illustrating the character-building works of Pramukh Swami Maharaj.
In the dedication ceremony, the Home Minister and sadhus handed over the school plaques to the principals and village chiefs of each respective school. Other invited guests present were the Kachchh District Judge, Shri V.S.Bhatt, Deputy General Manager of IDBI, Shri Khanduval, President of Rajasthan Jain Group, Shri Shantilal Jain, Chairman of Bombay Metal Exchange Charitable Trust, Shri Surendrabhai Parikh.
Till now, BAPS has built and dedicated, totally 4 villages and 38 schools in the districts of Kachchh and Surendranagar.