Location :
Gunatitpur is 9 Kms from Bhachau and 75 Kms from Bhuj, and is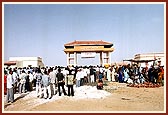 unique because it is a new village. The earthquake on 26.01.2001 damaged or destroyed over 700 villages of Kachchh, which are being rebuilt or re-located. Gunatitpur is a collection of 112 families who lived in distant fields, whose houses were totally destroyed, who suffered the loss of 14 lives because of remote isolation. In rebuilding their lives they urged to live together in a new village. They were spread out in area of approx. 27 Sq. Kms, bordering six villages, without any roads to reach their homes, only zigzagging dirt trails and desert landmarks as guides. BAPS Swaminarayan Sanstha conceived and created a new village, and resettled these devastated families in 17 acres of land.
The Village history Dates Back Just 17 Years :
A farmer from Jamnagar District set out in search of a better place, tired of recurring droughts in his homeland. His search ended in another drought prone area - Kachchh. He chose this area surrounding Bhachau and worked the land. Over a period of time, other adventurous families, from Kachchh and Sabarkantha regions, started settling in this area. Their labour was not lost and this region began to bear fruits of farming.
The land chosen was absolutely arid with all the luxuries of Kachchh - sand storms, malaria menace, snakes and scorpions aplenty, and no approach roads.. In subsequent years geologists have confirmed that Vedic River Saraswati, now lost, is flowing under this area with 35 Km wide and 150 Km long stretch of 20' deep waterbed, at 700 feet. The locals consider this land as most pious land. Yet, time and again, they have suffered unimaginable hardships. The devastating cyclone of 1998 had destroyed almost all the houses. And now the earthquake had taken away lives.

Association with BAPS :
Sadhus from BAPS temple Bhuj visited these victims on 28-01-2001, followed by relief materials next day. They pleaded to be rehabilitated together in one place instead of their original isolated places. BAPS accepted the proposal to settle them in one place with the blessings of HDH Pramukh Swami Maharaj, this new village, Gunatitpur, was born.
Gunatitpur
The village measures 17.0 Acres (68446 Sq. m), practically in the center of 27 Sq Kms region, which touches the borders of 6 villages Chopadava, Sikara, Kumbharadi, Kabarau, Ambaradi and Lunava.
Fact Sheet - Construction
| | |
| --- | --- |
| Total Land Area | 17 Acres |
| Total Court Yards | 10 |
| Total Houses | 112 : Type A: 82, Type B: 30 |
| Total Electric Poles | 57(15 on the main road) |
| Main Road | 550 Mts. 1804 ft. (Coal tar surfaced) |

Fact Sheet - Timeline
| | | |
| --- | --- | --- |
| Foundation Ceremony | 29 June 2001 | Allocation of land and governmental procedures took some time. No sooner land for the new village was allotted, Bhumi pujan was performed on 29.06.2001. |
| Construction Work Started | August 2001 | |
| Dedication Ceremony | 28 April 2002 | |
Fact Sheet - 112 Houses
| | | |
| --- | --- | --- |
| Type | A | B |
| Plot | 16 m. x 25 m. = 400 sq. m. | 12 Mt. x 20 Mt. = 250 sq. m. |
| Built up | 54.08 sq. m. | 43.20 sq. m. |
| Actual | 50.00 sq. m. | 43.20 sq. m. |
| Front | 7.20 m. | 7.20 m. |
| Sides | 9.20 m. & 6.0 m. | 6.00 m. |
| Accommodation | 3 rooms, kitchen, toilet, veranda | 2 rooms, kitchen, toilet, veranda |
| Total Houses | 82 | 30 |
Additional Insfrastructural Amenities in Gunatitpur
1) Main Entrance Gate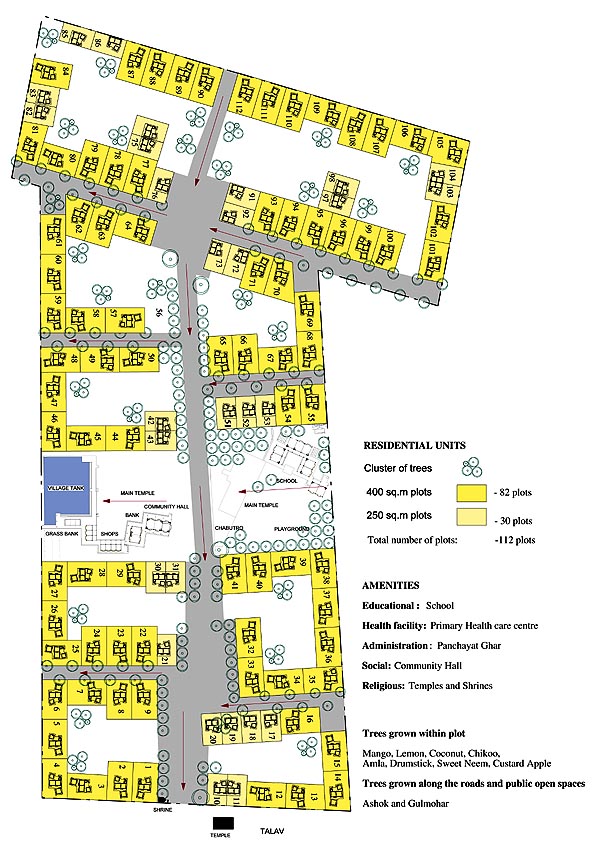 Challenges in Reconstruction
Considering that the land was remote, isolated with no roads to transport materials in the initial months, the challenge was enormous. Sand storms reduced visibility to 4 feet and gales uprooted tents and equipments. Engineers and laborers alike were attacked by cerebral malaria. Once, 120 out of 258 site workers were down with malarial fever. Scare of snakes and scorpions appearing any time, anywhere especially at nights inside tents was rampant. To add to it all, as the site is near the epi-center Bhachau, it was daily rocked with after-shocks. Even after the houses were erected, more than 300 after-shocks, some measuring as high as 4.9 Richter, have occurred and yet not a crack has appeared in the buildings. The construction is both earthquake-resistant and cyclone-guarded as every roof tile has been fastened by metal wire. BAPS has completed such high quality houses in minimum possible time with outstanding planning and projections for future development.
The Dedication Ceremony on Sunday 28 April 2002
The entire village, each individual house was cleaned, washed and decorated with AsoPalav Torans to greet the residents on the auspicious occasion of lokarpan ceremony.
As HDH Pramukh Swami Maharaj could not visit the place personally on his behalf Pujya Doctor Swami blessed the ceremony. He was welcomed at the main entrance by all village heads and residents, BAPS sadhus and Donors from Oman who had flown in from there to attend the ceremony.
Pujya Doctor Swami consecrated the Hanuman Shrine and did Pujan of the two donation plaques on the sides of the entrance announcing official dedication of the village Gunatitpur to the villagers. By breaking open the coconut and un-tying the Nadachhadi, he pronounced the village Gunatitpur open to the residents.
Gunatitpur was graced by his presence in the assembly there. People not only from Gunatitpur but also from nearby villages had come in tractors, cars etc.
Pujya Devcharan Swami welcomed the gathering, which included BAPS saints from various places, invited guests, residents and neighboring village folks. The donors representing GRECO, Sultanate of OMAN, had delegated a team of 9 members, to attend the ceremony.
Pujya Brahmavihari Swami introduced BAPS organisation and its various activities. He highlighted the earthquake relief work and BAPS' keen interest to provide multifarious support to the sufferers by taking care of their total needs instead of meeting with one or two.
The villagers thanked BAPS and the donors profusely. Thereafter, Dr. Satish Nambiar, Shri C M Sardar and Shri Kiran Asher from the Donors spoke their feelings and conveyed their wishes.
HDH Pramukh Swami Maharaj could not attend the ceremony but he had remembered the Gunatitpur residents. In his personal message to them, he conveyed his blessings and prayers for their Peace and Prosperity. His letter of Blessings was read to all by Pujya Siddheshwar Swami.
Addressing the assembly, Pujya Doctor Swami stressed that God should be kept at the center of all our activities. A village is not just houses and roads, but it is a collection of values. Children should respect their parents, while the parents should turn their houses into schools of culture and values. He inspired the people to leave addictions and wrong habits of smoking, chewing tobacco, etc. so that family bonds become stronger. Reading of religious texts and daily satsang in the house will strengthen family ties and ensure good character.
He honored the delegation of donors, architects of the project and other key persons who had worked hard to complete the project in time by presenting them with beautiful shawls. The eagerly awaited ceremony of handing over the keys was performed very traditionally and religiously. All the eight members of the donor delegates handed over the keys to 13 residents and Mr. Kirtibhai Khatri, editor of Kachchh Mitra daily to the remaining eight members. Each key was traditionally packed with betel nut and Gol-Dhana, symbolic of the pious ceremony, in a beautiful transparent plastic container. Each container was numbered to convey the house which they will occupy.
Pujya Doctor Swami handed over a copper kalash bedecked with coconut and asopalav leaves, which is considered most auspicious. He also blessed them for peace, prosperity, and progress so that people always take example of Gunatitpur.