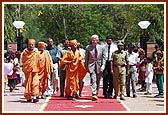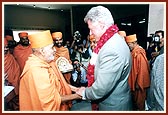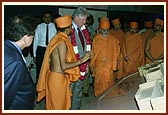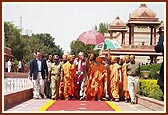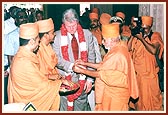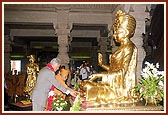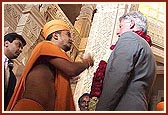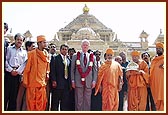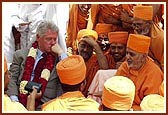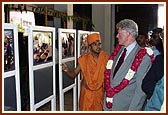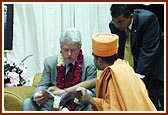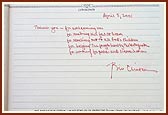 5 April, 2001, Gandhinagar, Gujarat
1.45pm on 5th April 2001, Bill Clinton, the former president of United States of America, arrived with his cavalcade of security and pilot cars to Akshardham in Gandhinagar, Gujarat. Before he alighted from his vehicle, his security men ringed the car. He was introduced to Ishwarcharan Swami, Viveksagar Swami and Brahmavihari Swami, who welcomed him. As he walked towards the main foyer Mr Clinton was honoured with a red carpet, welcomed by BAPS children showering flowers and auspicious traditional Indian music. On seeing Pramukh Swami Maharaj, Bill Clinton was filled with joy. Swamishri garlanded the former president and he responded with a warm handshake. The warm impression he had of meeting Swamishri in Miami on 4 October 2000 was apparent in his happy response.
After the formal welcome rituals, the former president was impressed by the brief overview of the Akshardham complex in the model room. On stepping out of the model room, Mr Clinton slowed his pace and waited for Swamishri to be with him. On seeing the impressive and towering Akshardham monument, Mr Clinton touched Swamishri's shoulder in a gesture of appreciation and exclaimed, "It is beautiful. You have made something more beautiful than one can imagine. Extraordinarily beautiful! More overwhelming than can be seen in photographs."
Swamishri responded in Gujarati, "Thank you, thank you. Your coming here has made everyone happy."
After descending the podium of the parikrama Mr Clinton and Swamishri walked towards the main monument. The former president waved to the devotees and wellwishers seated under the parikrama. On arriving by the main steps of the monument Mr Clinton and members of the American Indian Foundation (AIF) removed their shoes. When he reached the main podium of Akshardham Mr Clinton was simply flabbergasted. The inner sanctum of Akshardham with its grand pillars captivated him. "The earthquake has not damaged Akshardham?" he enquired. He was pleased to hear that it had remained sound.
Both Swamishri and Mr Clinton stood before the pacifying and beautiful 7 feet murti of Bhagwan Swaminarayan. When he was told that Prince Phillip, Lech Walesa and other dignitaries had offered prayers here, the former president responded, "I will also say my prayer." While Vedic peace prayers were being sung by sadhus, Swamishri tied a nada-chhadi (auspicious thread) on Mr Clinton's wrist. Then Swamishri placed flower petals in the ex-president's right hand. And while the mantra pushpanjali was being sung, Swamishri and Mr Clinton went up to the murti and offered the flower petals at the feet of Bhagwan Swaminarayan. While Swamishri was praying before Maharaj, Mr Clinton looked at the murti.
Then Swamishri blessed Mr Clinton, saying, "You went to Bhuj because you have love and compassion for people. So God will shower His grace and bless you. Because you have sympathy in your heart you have come all the way to Gujarat to help. May Bhagwan Swaminarayan make you happy. May your health remain good. You have immensely served and done a lot for America. Today America is at the top and the honour for that goes to you. You have faith in God, faith and respect for holy men and love for people - this is why you find success in all your works. You have endeavoured abundantly in bettering the relationship between India and America. I thank you very much. You have also enormously strived for world peace. We pray that a lot of good deeds be done through you, may you attain fame and may your health remain well." While Brahmavihari Swami was translating Swamishri's words Mr Clinton acknowledged by nodding and looking respectfully at Swamishri. He then replied, "I feel blessed. Thank you."
On seeing the rangoli of the auspicious pot and 'Su-Swagatam', Clinton remembered the 'Amrut Kalash' that Swamishri had presented to him in Miami last year. "Yes, I remember it. I have it!" he said.
After observing the intricate and aesthetic carvings on the pillars he also expressed wonder at the towering central dome and profusely carved ceilings. On being introduced to a couple of volunteers, he opined, "Your strongest force is dedication, love and volunteers. That's why perhaps your every work seems beautiful."
During a brief photo session by the roop-choki (before main entrance of monument) Swamishri introduced Lord Harikrishna Maharaj. The former president folded his hands in respect before Thakorji. As he walked observing the complex, Mr Clinton expressed, "I know that Akshardham is not only a unique place in India but in the whole world. It is even more beautiful than what I had imagined. Taj Mahal is definitely beautiful, but this place, along with beauty, has a beautiful message!"
While descending the steps Mr Clinton revealed his experience of Swamishri, "You know something, ever since I met him in Miami, I was moved. When I look into his eyes, they are filled with integrity." After coming down the stairs Mr Clinton sat on a sofa to put on his shoes. Swamishri was standing nearby. With the mercury touching 41 degree celcius, a light white cloth was held as a canopy to protect them from the heat. Mr Clinton continued to chime the glory of Swamishri, "See, there are too many leaders, religious groups and people in this world who believe that by pulling others down, you can bring yourself up. And by discounting others, isolating or segregating them... but (pointing to Swamishri) he is different! Swamiji connects. He connects with others and everyone around him. He works through connectivity. That is why he has been able to bring peace and harmony and so many people together." The former president added further, "The first time Pramukh Swami met me in Miami, I saw in his eyes that he is a man who has not come ahead by eclipsing others. He has come forward by always placing others before him. And that is why I had a deep desire to meet him again."
And so saying Mr Clinton looked respectfully at Swamishri and gestured with his hand to sit on the sofa. Swamishri complied and sat on the sofa. Despite the heat, the former president was in a relaxed and comfortable mood. He continued, "In order to embrace what they believe they have to reject other people and their convictions. And he (Swamishri) is the person I have met who is trying to go beyond all that. And I believe that the great challenge of the world is to find that sort of integrity; to be able to celebrate your own religion, celebrate your own race or ethnic group, but still embrace our common humanity and our common connection to God is more important."
Bill Clinton expressed that he got that feeling of universality that Swamishri has for all. Then he continued, "If you look at all the fighting in the Middle East, it is based on religion. Jesus Christ said that the most important commandment is to love God with all your heart. And the second is to love your neighbour like yourself. The Koran says that all the different peoples of the world on earth should love one another and not despise one another. The Torah of the Jews says that he who turns away a stranger might as well turn away God Himself. So all these faiths say the same thing. People say they accord respect to others but somehow they believe they will lose their identity."
Swamishri, agreeing on his thoughts, replied, "Bhagwan Swaminarayan and our Guru have taught us the same thing - to love and serve others. Because you have love for people you have come from afar and visited Bhuj and met people in this heat. That (sympathy) is a virtue of God. You have love for ordinary and great people and that is why you meet them all. You met the ordinary folks by visiting their villages."
Then Mr Clinton said, "I was raised to believe that there is no difference between a president and a common man living in the villages."
Swamishri happily confirmed, "You have lived accordingly. Despite your appointment to a high post you have not forgotten trivial people. You have done your lesson well. And that is why people love you."
The informal, relaxed mood of the dialogue transcended the pressures of time constraint and prickly heat. Mr Clinton was amicably and respectfully holding Swamishri's hand while he continued the dialogue. "I feel that people who have power or wealth should understand that there's no difference. They are simply more fortunate. In fact they should feel a greater obligation to work in the villages with all kinds of people."
Swamishri conceded, "We too believe in the same principle that there should be no discrimination or distinctions. One should serve regardless of distinctions of high or low, religion or caste."
When the security officer reminded him of the time schedule Swamishri said, "Saheb prefers the company of people. He forgets how fast time flies. Our guru Yogiji Maharaj was also inclined towards having the company of people. Before their love and sentiments he too forgot about time."
The former president and Swamishri got up and advanced towards the exhibition halls.
On seeing the statue of a man sculpting itself, Bill Clinton was amazed. He said, "Amazing, incredible idea... so powerful. If you make models of this, you can start an international business of inspiration... Individuals all over the world will be inspired!"
On seeing the caves that depicted Nilkanth Varni's travels and His austerities at Mansarovar the former president expressed, "Because your religion has the virtue of renunciation you are able to work with so much power and energy."
On seeing the presentation showing hands uplifting the downtrodden people by Bhagwan Swaminarayan and His paramhansas he commented, "The reason why your organisation is at the top is because you are lifting the smallest segment of society."
On glimpsing the multimedia show the former president was impressed and said, "This is a place where there is a synthesis of science, technology and religion."
When he was informed about the details of the 'Hall of Harmony' Mr Clinton said, "If there were more places like this which respect all religions and people, there would be more harmony."
On meeting some BAPS volunteers who had offered their services during the earthquake relief activity Mr Clinton said, "These are the real heroes."
Finally the tour concluded at the Akshardham foyer where a photo exhibition described the BAPS relief work in Kutch. Mr Clinton also met some survivors of the earthquake disaster who had been provided relief aid by the BAPS. On hearing the story of a Muslim, Sidikbhai of Soyla village, who said that despite the fact that there is not a single Hindu in their two villages, Pramukh Swami Maharaj had provided aid and relief materials for the last 1½ to 2 months. Mr Clinton was all praises for the services and commented, "In his heart, Pramukh Swami has no distinction!"
A display on the BAPS earthquake rehabilitation project was shown. And finally Swamishri presented the former president with mementos of etched pictures of Akshardham and Shree Swaminarayan Mandir in London, a model of a man sculpting himself and Indian sweets as prasad.
In the visitors' book Mr Clinton wrote:

| | |
| --- | --- |
| | April 5, 2001 |
| Thank you - | |
| | for welcoming me. |
| | for making me feel at home. |
| | for reaching out to all God's children. |
| | for helping the people hurt by the earthquake. |
| | for working for peace and reconciliation. |
| | - Bill Clinton |
Instead of the scheduled 15 minutes Bill Clinton spent nearly an hour at Akshardham. While leaving, Swamishri thanked the president, "I thank you for believing Gujarat to be yours and for coming all the way from America."
Mr Clinton expressed his appreciations saying, "On meeting you I feel and believe that I am fortunate. It is a great thing for me to be blessed by you here today."
The former president shook hands with Swamishri and departed. On leaving the foyer the guide told Mr Clinton that because of the heat he must have experienced a lot of discomfort.
"No, no, actually I feel cool! Very calm from inside! Tell Swami that I feel blessed by coming here. And tell me what is the statue in the centre of the monument called?"
"Bhagwan Swaminarayan" he was answered.
"It is made of gold, right?" Mr Clinton asked.
"Yes, gold-leaf."
"Then tell Swami, like the statue he has a heart of gold." And with this vivid experience Bill Clinton departed.
During that time Swamishri was meeting the poor Muslim Sidikbhai, Jadavji Thakkar, Satish Bharatwala and Dipak Makwana - survivors of the earthquake catastrophe - with the same love and respect that he had met the former president.

Note:
(1) Swamishri's dialogues were translated into English for
Mr Clinton.
(2) All conversations in this article have been produced from an audio recording during the tour of Akshardham.
Related links:
Akshardham, the most powerful experience of Indian Culture
Pramukh Swami Maharaj meets President Bill Clinton at Miami, Oct 2, 2000
BAPS Earthquake Relief and Rehabilitation Work