Nineteen months ago a savaging supercyclone emerged from the Bay of Bengal. With winds of up to 300 km/h and 30 feet high tidal waves, it thrashed and ripped the state of Orissa for more than 36 hours. Returning back to the sea, it left behind a trail of untold devastation, the worst in the history of India.

In the aftermath of the supercyclone, BAPS Swaminarayan Sanstha, under the able inspiration of His Divine Holiness Pramukh Swami, distributed emergency relief and aid to over 61,000 victims in 84 villages in the worst affected areas, namely Jagatsinghpur and Kendrapada.

Moreover, BAPS adopted 2 villages, Chakulia and Banipat (Erasama Block), for total rehabilitation. After over a year of hard endeavor by BAPS volunteers, and assistance from the Orissa Government and local people, BAPS Swaminarayan Sanstha completed the monumental task of reconstructing the two villages.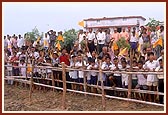 On Sunday 10th June 2001, more than 6,000 people had gathered to witness the grand inauguration and rehabilitation ceremony of the cyclone ravaged villages of Chakulia and Banipat. At 10.00 am, Pramukh Swami Maharaj and the king of Jagannathpuri - Gajapati Shri Divyasinhdev Maharaj - began the Vedic pratishtha of the newly built Shri Swaminarayan Mandir between Chakulia and Banipat. The pratishtha ceremony of Akshar Purushottam Maharaj was performed by Swamishri and Shri Jagannathji by the king.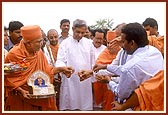 The inauguration of Banipat village was performed by the Chief Minister of Orissa - Shri Naveen Patnaik, Shri Biswabhusan Harichandas (Hon.Minister of Revenue), Shri Surendra Nath Naik (Hon. Minister of Panchayati Raj), Shree Damodar Rout (MLA-Erasama) in the presence of Pramukh Swami Maharaj and Shri Gajapati Maharaj.

Similarly, the inauguration ceremony of the Primary and High School and the village of Chakulia were also performed.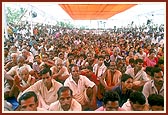 In the assembly, attended by over 6,000 people, Shri Damodar Rout praised the work of BAPS Swaminarayan Sanstha by commenting, "BAPS was the first organization to bring relief in this area. Not only this, but the sadhus stayed behind to gift us with pucca homes and schools for which we are extremely grateful."

Shri Surendra Naik commented, "This Sanstha has worked without any selfish interest in this area. I have personally come to see the work done by the sadhus of BAPS on a number of occasions and every time I have come, I have been inspired by their zeal to serve and care."

Shri Harichandanji commented, "I have seen work done after the cyclone in many areas by many different organizations, but I have never seen such perfection anywhere which I see here today."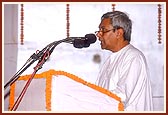 The Chief Minister, Shri Naveen Patnaik, commented, "BAPS Swaminarayan Sanstha is doing praiseworthy work in a variety of fields that help our society morally, culturally, medically, educationally and socially. Although the Sanstha is based in Gujarat, it has come this far to help us rebuild our lives by rebuilding our homes and livehoods. I take this moment to thank Pramukh Swami Maharaj and his organization for all that they have done."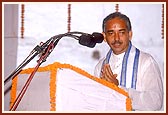 Gajapati Shri Divyasinhdev Maharaj said, "Many have come here with relief and some have also helped with rehabilitation. However, BAPS has done something greater through its sadhus who have instilled moral and character-building values in our lives. This is something extraordinary that will build a better home and even better society."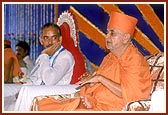 Finally, Pramukh Swami Maharaj blessed the function, "The supercyclone that struck two years ago devastated the lives of the people of Orissa. It has been our duty from the time of Bhagwan Swaminarayan to serve the people in times of need ... It is important that our lives should be addiction-free and wedded to moral values. Only then will this village be ideal."

Altogether, BAPS has constructed cyclone-proof homes, a Primary and High School, a beautiful mandir and a road connecting the villages with the Erasama Road within a short period of 16 months.

The ceremony which began at 10:00 a.m. ended with prasad at 1:00p.m.