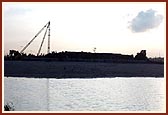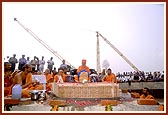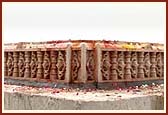 Laying of First Stone at Akshardham, New Delhi
With the divine blessings of Brahmaswarup Yogiji Maharaj and the inspiration of Brahmaswarup Pramukh Swami Maharaj, the construction of Akshardham in the lap of river Yamuna in New Delhi is proceeding at a tremendous pace.

On the auspicious day of Monday 2 July 2001, a significant landmark was ceremoniously celebrated - the first sculpted stone was placed in position by Pramukh Swami Maharaj.

Upon the sturdily built 20-feet deep foundations - capable of withstanding even major earthquakes - the construction has reached the plinth level - at a height of over 40 feet above ground level. Now the task of assembling the sculpted pink stones of Bansipahadpur in Rajasthan has begun.

A Vedic ceremony was performed from 9.00 - 10.00 am in the presence of Pramukh Swami Maharaj to commemorate this auspicious occasion. Over 350 devotees witnessed this divine occasion, with Swamishri seated on the 40ft high plinth performing the Vedic rites.

Following the ceremony, a special assembly was held to mark the occasion.