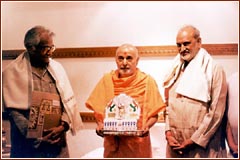 Mr George Fernandes with Swamishri and Thakorji in Sarangpur
Download high resolution file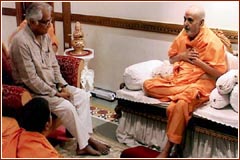 Pujya Pramukh Swami Maharaj engaged in a dialogue with the Hon. George Fernandes, Defence Minister of India
Download high resolution file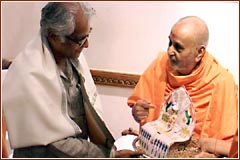 Swamishri explains the glory of Shri Harikrishna Maharaj to the Defence Minister
Download high resolution file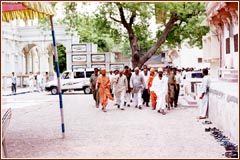 The Defence Minister in the precincts of Swaminarayan Mandir, Sarangpur
Download high resolution file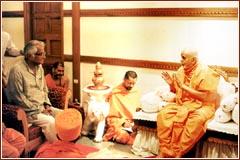 Swamishri explains, "Our Guru Yogiji Maharaj always preached the principles of unity, brotherhood and peace..."
Download high resolution file

The Defence Minister, Mr.George Fernandes, met Pramukh Swami Maharaj in Sarangpur at 8.15 a.m. and stayed till 9.45 a.m.

Mr. Fernandes was received solemnly amidst the chanting of Vedic mantras for Peace by the sadhus. Prior to meeting Pramukh Swami Maharaj, Mr.Fernandes had darshan of the Yagnapurush Smruti Mandir and the Swaminarayan Mandir complex.

The Union Defence Minister, during his 45 minutes meeting with Pramukh Swami Maharaj said, "I have heard a great deal about you both in our country and abroad, and I have been wanting to meet you for a long time. As I am in Gujarat, I thought I should take this opportunity to meet you. I have seen the impressive mandir you have built in London and the other mandirs of the Sanstha abroad. I have also seen the fund of tremendous goodwill that people have for you throughout the world. Today I have come here with faith that peace in Gujarat and India can be reinstated through the blessings of holy saints like you."
Then Pramukh Swami Maharaj gave an overview of the peaceful nature of the people of Gujarat. To this, Mr.George Fernandes said, "I have travelled in Gujarat and found the atmosphere to be peaceful and good. The last time I came here to deploy the army, and this time I have come to take the army away. The people of Gujarat must understand that the progress of our society lies in forgetting the past, living the present constructively and thinking about a better future. I have faith in you and that is why I have come here today to seek your blessings."

Pujya Pramukh Swami agreed and added, "Our Guru Yogiji Maharaj always preached the principles of unity, brotherhood and peace. Religion leads all people to this noble path. I often say that true religion is that which spreads mutual love."

With reference to prevailing issue in Gujarat, Swamishri said that people should not be misled by others and should help in restoring normality. He added further, "The people of Gujarat are peaceful in nature. Peace will reign if the citizens of Gujarat are not instigated. Political leaders, parties, leaders working in different fields and the media should exercise restraint; for the people of Gujarat desire peace and harmony."

Mr. Fernandes said, "There are some forces not only in Gujarat but in other parts of the country which are working to spread unrest and instability. Efforts by hostile elements are being made that India does not reach the top. I have come to seek your blessings for the progress of our country and its security."

In reply, Swamishri assured the Minister, "Bharat is a country that deserves to be at the top. But for that it is necessary that we all be united in our efforts. And with our united efforts God will help us and bless us with peace and amity."

Pujya Pramukh Swami Maharaj honoured the Defence Minister with a garland and a shawl and blessed him for success in his duties.