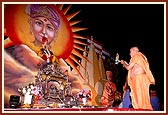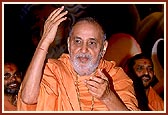 On Sunday 21 April 2002, Bhagwan Swaminarayan's 221st birthday celebrations were held in Sarangpur in the presence of Pramukh Swami Maharaj.
The evening assembly was the culmination of a 5-day programme celebrating the life, work and message of Shriji Maharaj.
Held in the open space in front of the Yagnapurush Smruti Mandir, the birthday celebration was attended by over 10,000 devotees.
The stage backdrop displayed the socio-spiritual work of Bhagwan Swaminarayan through the use of specially prepared large colourful cut-outs. The programme consisted of speeches by senior sadhus, devotional songs by sadhus and traditional dances by youths and children.
Blessing the assembly, Swamishri said, "Bhagwan Swaminarayan manifested to remove the evil instincts and thoughts within us. With Him, He brought His Akshardham, Gunatitanand Swami, the ideal Sadhu. Just by his darshan one experiences peace. He does not need to speak – his life was so pure, we experience peace on having his darshan. He has no desires for worldly pleasures. He only wants to give others happiness. That is a true sadhu.
"Shriji Maharaj had 500 paramhansas. They were powerful, yet they humbly served Shriji Maharaj. Their lives inspired many. By associating with ideal sadhus our lives become pure and we are blessed with the virtues of dharma, gnan, vairagya and bhakti. Shriji Maharaj brought Gunatitanand Swami to show everyone that this is how virtuous He wants to make everyone. Gunatitanand Swami was full of all virtues.
"Shriji Maharaj thought that one should not even wish misfortune for others. By preserving our traditions, culture and spirituality we will experience peace."
In the end, Swamishri offered pujan and panchamrut snan to Shri Harikrishna Maharaj. Then at 10.10 p.m. the main birthday arti was performed with exuberant devotion and festivity.
To celebrate this special day, thousands of devotees, young and old, had observed a nirjala (waterless) fast, as per the annual tradition.