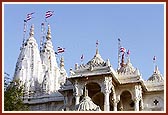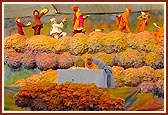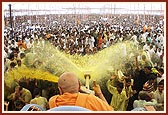 18 March, Sarangpur
The Pushpadolotsav festival of colors, is a much awaited annual celebration. Devotees from all over India and abroad flock to the tiny village of Sarangpur to experience the divine event.

This year, on 18 March 2003, Sarangpur once again came alive with a teeming multitude of devotees. They arrived in a wide array of vehicles and means. Some arrived the day before to celebrate the birth anniversary of Bhagatji Maharaj. Many began their journey at midnight and arrived in Sarangpur before dawn.

At 7.15 a.m. the festival commenced with Swamishri's morning puja. The sadhus sang bhajans related to the Holi festival and Pushpadolotsav and charged the congregation with devotion and festivity. The stage backdrop of clouds painted in festive colors and with murtis of Bhagwan Swaminarayan, Gunatitanand Swami and pramhansas engrossed in spraying colors evoked a joyous ambience to the event.

After Swamishri's puja, Pujya Atmaswarup Swami narrated how Swamishri has morally and spiritually elevated the lives of youths and devotees. Pujya Viveksagar Swami explained the significance of Holi and Pushpadolotsav. Pujya Doctor Swami struck an introspective note for all to ponder upon regarding the consolidation of one's faith and allegiance to Satsang. Pujya Ishwarcharan Swami then announced the 50th Golden Jubilee Celebration Year of BAPS Bal Mandal. He spoke about how Shastriji Maharaj, Nirgundas Swami, Yogiji Maharaj and Swamishri have nourished children with satsang values. Then Pujya Mahant Swami talked about purifying one's devotion to God.

The official launching of the Golden Jubilee Celebration Year of BAPS Bal Mandal saw a colorful and festive presentation of speech, dance and singing by balaks.

Swamishri then blessed the assembly of over 35,000 devotees, " In the time of Shriji Maharaj the women devotees, during a Fuldol Festival, asked that they be protected from maya. They did not desire for worldly comforts but prayed that they offer devotion to Maharaj. By listening to spiritual discourses one eventually realizes that worldly things are false and temporary ..."

Then Swamishri offered pujan to Shri Harikrishna Maharaj and sprayed the colored water on Thakorji. This sanctified colored water was then sprayed on the devotees. For 1½ hrs Swamishri joyously sprayed colored water on the devotees, volunteers and sadhus.
The sheer joy of getting drenched at the hands of Swamishri was simply elevating. The devotees, after taking mahaprasad, departed with divine memories of the gorgeous fuldol festival.