Mandirs, scriptures and sadhus are recognized as the pillars of Hindu culture and tradition. Bhagwan Swaminarayan preserved and promoted all three. Just like the special impact made by the mandirs He had built, and the scriptures He inspired, the tradition of pure sadhus He initiated has created a unique impression throughout the world.
Describing the life of sadhus in the Swaminarayan Sampraday, Sadguru Nishkulanand Swami, one of Bhagwan Swaminarayan's eminent saint-poets, writes:

"Gurjardeshma sant farta, karta Harini varta;
Panchvrate pura shura, Harine sambharta."
"Sadhus toured in the regions of Gujarat, preaching the message of God;
They courageously observed the five vows and remembered God."
Bhagwan Swaminarayan had instructed the sadhus to strictly observe the five vartmans (vows):
1. Nishkami Vartman:
8-fold celibacy - absolute brahmacharya. This means renouncing the contact of women through mind, body and speech: 1. Not to listen to talks by women. 2. Not to talk about women. 3. Not to talk to women. 4. Not to indulge in entertainment with women. 5. Not to intentionally look at women. 6. Not to think about women. 7. Not to attempt to secure the company of women. 8. Not to have sexual contact with women.
2. Nirlobhi Vartman:
Total renunciation of wealth (Not to touch money, not to keep possessions or have others keep them on one's behalf.)
3. Niswadi Vartman:
Mix food in a wooden bowl and then add a little water before eating.
4. Nisnehi Vartman:
Not to become lovingly attached to anyone other than God. Renunciation of one's native place and near relatives.
5. Nirmani Vartman:
Be humble and serve everyone.
In addition to these five vartmans, Bhagwan Swaminarayan said, "The highest dharma of a renunciant is to offer devotion to God coupled with a total understanding of His glory." (Satsangijivan)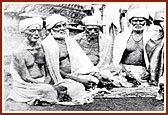 Rare photographic image of four paramhansas of Bhagwan Swaminarayan, (L to R)
Pujya Pragnanand Swami,
Pujya Bhumanand Swami,
Pujya Adbhutanand Swami, Pujya Pavitranand Swami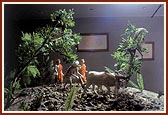 Pramhansas travelled to villages to inspire character and faith in farmers ...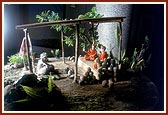 ... blacksmith, and downtrodden people
In short, He created a cadre of sadhus who strictly practiced the five vartmans and offered parabhakti - the highest devotion. The history of the Sampraday reveals that He initiated over 3000 sadhus. However, some of them were killed by evil-minded bawas, who felt threatened by the purity of these sadhus. To protect His sadhus from this inhuman onslaught, Bhagwan Swaminarayan initiated 500 paramhansas. The list of their names is recorded in 'Haricharitramrut Sagar'. The senior among them included: Aksharbrahma Sadguru Gunatitanand Swami, Yogamurti Sadguru Gopalanand Swami, Sadguru Muktanand Swami, Sadguru Nityanand Swami, Sadguru Brahmanand Swami, Sadguru Premanand Swami and Sadguru Nishkulanand Swami.
The paramhansas travelled from hut-to-hut and village-to-village inspiring morality in the lives of people and peace and security in society.
"Sahajanand Swami revived the lost practice of brahmacharya, purified the unruly and independent image of sadhus, set an ideal of self-control to gurus and acharyas who had strayed from their path." This observation by the renowned Gandhian Kishorelal Mashruwala is a fitting recognition of Shriji Maharaj's contribution in reviving the pure traditions of sadhus. Subsequently, His ideals have been upheld and promoted by the succession of Gunatit Sadhus He introduced.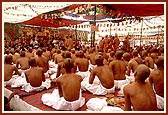 Parshad diksha ceremony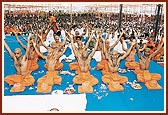 Sadhu diksha ceremony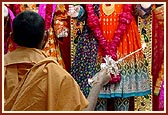 After decorating the deities a sadhu performs arti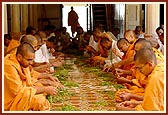 Sadhus and parshads cutting vegetables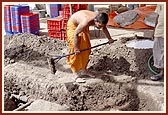 A sadhu engaged in service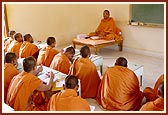 A class conducted by a senior
sadhu at the training center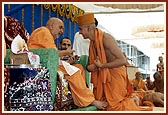 On 27 May 2003 Swamishri gives diksha to 32 youths in Gondal and fulfils the wish of Yogiji Maharaj to initiate 700 sadhus through him
On receiving this initiation, the parshad wears white robes and stitched clothing is renounced. His head is clean shaven, except for a small shika (tuft of hair) and he is given a janoi. With this, the five vartmans given by Shriji Maharaj are strictly observed.
Even in this parshad stage, training continues. During this period the Vachanamrut (Discourses of Bhagwan Swaminarayan) and the lives of the Gunatit Gurus are studied in detail. Besides this, service and austerities also continue.
After about 12-18 months, Pramukh Swami Maharaj gives the bhagvati diksha to the parshads. They now wear saffron robes and are given a new name.
After initiations into the sadhu-fold, the Upanishads, Mahabharat, Shrimad Bhagwat, Bhagvad Gita, other Hindu scriptures and world religions are studied. English, Hindi, Sanskrit and other languages are also studied. In addition, music, art and other creative subjects are studied by those who have an aptitude and talent. Together with these studies, regular service and austerities continue.
The daily routine of sadhus living in the training center commences at 4.00 a.m. While remembering God, they bathe and perform personal puja. Then they attend the mangala arti at 5.45 a.m. From 6.00, various services begin: cleaning the mandir compound, making flower garlands for the deities, cutting vegetables, preparing meals, performing mahapuja, adorning the deities, cleaning the ashram, etc. In the afternoon and evening, sadhus, in turn, wash the utensils. Every 15 days, the allocated service changes, so that they gain experience and expertise in all types of service.
At 7.15 a.m. all attend the shangar arti. After the arti, two bhajans are sung describing and praising the murti of God. Then all go for darshan of the Yagnapurush Smruti Mandir (mandir built over the cremation site of Brahmaswarup Shastriji Maharaj.) Then after breakfast, at 8.00 a.m., the morning discourse takes place.
For one hour, experienced senior sadhus who teach in the training center deliver discourses based on the Vachanamrut, giving guidance and inspirations regarding the life of a sadhu.
Between 9.00 a.m. and 12.00 p.m., study classes, based on the syllabus described above, are held in the 'Yagnapurush Sanskrit Vidyalay' in the mandir premises. At 12.00 noon, lunch is served. The menu is common for all, except for those who are ill. Sadhus eat in a small wooden bowl. While the food is being served, everyone chants the Swaminarayan mahamantra aloud. Then Vedic prayers are recited in unison before the eating ritual begins.
At 12.30 p.m. in the assembly hall, afternoon discourses are held upto 1.00 a.m. Then in the afternoon, sadhus engage in personal study. At 4.00 p.m. all gather in the assembly hall for meditation as the deities are awakened from their afternoon rest. Scriptures are also read. From 4.30 to 6.30, study classes take place. At 7.30 p.m., the sandhya arti is performed. Thereafter, all bow to each other, touching everyone's feet, and bid "Jai Swaminarayan." At 8.00 p.m. dinner is served. At 8.45 p.m., the evening assembly commences. For 30 minutes, devotional songs are sung by sadhaks, parshads or sadhus. Then the report of Pramukh Swami Maharaj's vicharan is read. Sometimes, other special programs are organised. At 9.45 p.m., the cheshta, describing the divine murti and daily routine of Bhagwan Swaminarayan, is sung. At 10.15 p.m. all bid 'Jai Swaminarayan' to each other before leaving the assembly hall.
Then, after spending an hour in personal study, at 11.30 p.m. they retire to sleep. Sadhus use a thin mattress for bedding. They sleep in the common dormitories or on the terrace, depending on the weather. Nobody has a separate room.
In all these activities, the harmony between the sadhus is strengthened. Despite hailing from different regions, countries and educational backgrounds, they blend with one another in a unique spirit of unity. Thus, they are actively absorbed between 16-18 hours a day in their spiritual endeavors to please God.
The sadhus regularly observe between 5 and 7 waterless fasts every month. Many eat only once a day. They also undertake other difficult austerities, such as, dharna-parna, chandrayan, khatras, tuptakruchh, etc.
After seeing this intense training in service, austerities and study, the renowned founder of 'Hinduism Today,' the late Swami Shivaya Subramaniam, commented, "I have never seen such a training center for Hindu sadhus anywhere in the world."
After spending 5 years in the training centre, Pramukh Swami Maharaj appoints the sadhus to the various BAPS mandirs to engage in a variety of services. At over 500 mandirs, sadhus actively manage over 160 humanitarian services, including social, educational, moral, cultural and spiritual activities.
Among the sadhus, there are 5 doctors, 60 engineers, 5 chartered accountants, 1 Ph.D., 27 post-graduates among the 204 graduates in science, commerce, arts, computing, management, law and other faculties. Some are graduates from prestigious universities such as Harvard and Oxford. In this way, sadhus of all ages, readily serve as per the wish of Pramukh Swami Maharaj.
Pramukh Swami Maharaj has initiated 24 educated youths from USA and Canada, 44 from England and 10 from Kenya, 6 from Uganda, 3 from Tanzania, 1 from South Africa and 2 from Nepal into the sadhu order. It is indeed a miracle Pramukh Swami Maharaj has inspired such youths, raised in a Western environment, to willingly accept the strict vows and disciplines of a sadhu.

Adding to this pure tradition established by Bhagwan Swaminarayan, Pramukh Swami Maharaj gave 32 youths the sadhu and parshad diksha on Tuesday 27 May 2003, Yogi Jayanti celebration in Gondal. Thus currently, there are 703 BAPS sadhus.