23 July 2003
IRMA, Anand, INDIA
Dear Kishores,
Swami Bapa's most blessed, great and mighty souls the chosen ones, by now you must have learnt what Swami Bapa expects from you. His expectations are that you must be able to stand firmly against peer pressure and fight out temptations. Do what you may, but learn to put up a stern fight against all evils and kusang. Do not yield to these destructive substances. Try, try, try; and at last you will succeed. Remember Swami Bapa and his selfless love. Pray to HIM in such moments of temptation and peer pressure, with full faith. HE will give you both strength and courage and will hold your hands to save you, lead you away from temptation.
He expects you to remain in high spirits, just as now in his presence, for all time. Keep guard and see that your spirit does not decline day by day. It can only be done by loving Swami Bapa. He has been kind to you and drowned you in his tender love. He has spent hours and hours together hoping that you won't betray him by becoming a prey in the clutches of Maya.
Put forth a sincere, intelligent effort in your studies as he considers your studies as his personal seva. Why not do it. Why be a heavy loser?
He very, very intentionally wishes and expects from us that we do not fall prey to abhav avgun. Also, our souls have been nourished by his selfless love, let it not be poisoned by abhav avgun, a deadly kusang, a killer, a slayer of our high spirits, enthusiasm, bliss, etc.
There are many of you here and in your country, who are bold and who uphold and do hard things like (tilak chandlo, etc…) to please Swami Bapa. Others have to learn from these lion cubs. It can be done. Reflect!
From time immemorial people have been running a mad race after fame, name, fortunes, possessions, wealth, women and all this stuff. Such trial and error methods have proved the futility of things pertaining to the body, and also the body itself. Nothing has ever given anyone peace, happiness and a balanced life.
Yes, dealings with the mind have brought hopes, positive thinking, thinking big, forgive and forget and good virtues are making their way out in the forefront of people's mind. To live a worthy life, full of hopes. Much more than body mind and far, far better is to know your real self, the soul. That is what satsang is. Since Maharaj, up till now thousands have, proved its (souls) worth. Soul conscious people have been the happiest people upon Earth. Added to soul consciousness, firm attachment to God and saints like Swami Bapa is the number one thing in the whole universe. This is Akshar Purushottam Upasana.
By the grace and blessings of Swami Bapa, we are hearing this glorious divine upasana of pragat Akshar Purushottam. Now our most important duty is to believe, believe, believe and act to please Pramukh Swami Maharaj, him and only him with all our might.
Sadhu Keshavjivandas
(Mahant Swami)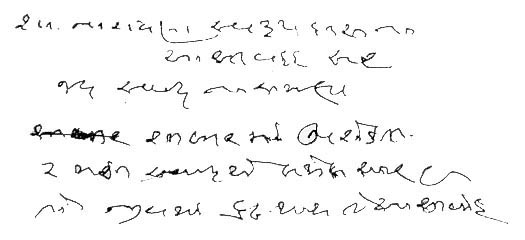 Shastri Narayanswarupdasna ashirvad sah Jai Swaminarayan.
Shibirma uprokta Pujya Mahant Swami ae lakhel sar chhe to jivama dradh thay te ashirvad.
English translation:
With blessings and Jai Swaminarayan from Shastri Narayanswarupdas (HDH Pramukh Swami Maharaj)
Blessings for the consolidation in one's soul of the above written essence of the shibir by Pujya Mahant Swami.