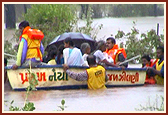 By the inspiration of Pujya Pramukh Swami Maharaj, over 105 sadhus and 1650 volunteers of the BAPS Swaminarayan Sanstha served to help the flood victims during the heavy rains in Gujarat. BAPS provided hot meals to over 325,000 flood-affected people and distributed over 185,000 food packets coordinated by the BAPS headquarters in Amdavad. The Sanstha's Mandirs at Amdavad, Atladra, Bharuch, Bochasan, Navsari, Surat, Tithal, Mahelav, Sarangpur, Rajkot, Surendranagar, Vidyanagar, Gadhada, Gondal, Himmatnagar, Limdi, Nadiad, Junagadh, Jamnagar, Gandhinagar, Adas and other places served as centres for flood relief activity.
BAPS provided flood relief aid to 95 villages in 16 regions. In particular: Vadodara district – Vadodara city, Mujmahuda, Akota, Tandalja, Gotri, Atladra, Bhimtalav, Subhanpura and other villages; Bharuch district – Bharuch city, Vilayat and villages of Vagra sub-district; Anand and Kheda district – Anand, Borsad, Amiyad, Khadodhi, Badalpur, Dhuvaran, Kanbha, Undel, Kalodra, Kalu, Rahevan and other villages; and Navsari district – Navsari, Dashera Tekri, Ramlakhota, Kabilpor and other villages. Extensive flood relief work was performed in the severely affected South Gujarat areas of Surat, Tithal, Valsad, Kosamba, and others. In addition, affected parts of Amdavad and Saurashtra were also provided aid.
The Sanstha's youth volunteers ventured into remote areas, braving the heavy rain and waist-deep waters. In Borsad, where army help was necessary, BAPS volunteers worked with the army to provide aid. In Saurashtra, even sadhus helped to save lives. Using its boats the Sanstha helped to deliver emergency aid to affected areas and to evacuate people to safer places.
Pramukh Swami Maharaj has prayed that the torrential rains subside. Prayers have also been offered at all BAPS mandirs and centres.

Details of the BAPS flood relief work are as follows:

Flood Relief Work - Details (upto 6 July 2005)
Sr.

Mandir

Saints

Volunteers

Food Packet

Meals

No. of days served

Area for relief distribution

1

Navsari

4

110

5,000 morning
5,000 evening

5

Undach, Trodi, Sonvadi, Kasbapara, Chovisi, Ramnamora, Dasera Tekri, Dharagiri, Kachhiyavadi

2

Bharuch

4

100

5,200 persons

8

Bhersang, Vilayatgam, Vairagivad, Vadhara-3, Bharuch City

3

Surat

2

35

7,000

1

4

Surendranagar

2

30

750

1

Malod, Kholadiyad, Gomta

5

Bochasan

20

500

25,000
4,000 to Borsad Collector

1,500 morning
7,000 evening

8

Borsad, Amiyad, Khadodhi, Napa, Badalpur, Dhuvaran, Adas, Kanbha, Rundel, Kalodra, Kalu, Dahevan, Bodal, Dhabhasi, Navad, Chuva, Chaklagam, Vadadala, Amberavpura, Uneli, Delhichakla Gam, Bochasan, Mahiyari, Khambhat, Pamol, Galiyana, Finav, Mota Kalodra, Kasumbad, Dahemi.
Serving meals to 3,000 people at places (in Bochasan) Pathikashram, PTC College, Nagarpalika Office, J.D. Patel School, Brahmin's Dharmshala, Govt. Dispensary,

6

Mahelav

7

10

14,500

8

Porda, Vatav, Hardi, Morad, Dantali, Sunav, Thegdi, Lakkadpura, Sitapura, Petlad, Sojitra, Ravipura.
Areas: Sardar Patel Market, Sita Falia, Khetivadi Utpanna Bajar Samiti, Harijan ni vadi, Malav Bhagolno Vaghrivas, Santrmapura Jhupadpatti, Bus stand and Railway station

7

Vidyanagar

2

50

1,200 meals daily

10

8

Gadhada

20

20

5,151

1

9

Gondal

10

25

1,000

1

10

Himmatnagar

2

30

1,000

1

Khedbrahma, Modasa

11

Limdi

2

30

600

2

12

Nadiad

6

100

15,000 meals served so far

3

Uttarsanda, Fatehpura,Bilodra, Bhoivada
Shrio, Shak, rice, Buttermilk served to people stranded in Buses & trucks on NH-8 Piplag Chokdi

13

Junagadh

2

40

2,000

5

14

Rajkot

2

50

15,000

2

15

Jamnagar

10,000

1

16

Amdavad

4

25

5,000

1

17

Gandhinagar

2

20

10,000

18

Adas

2

50

3,000

3,000 meals daily

6

Adas, Denapara, Chanasipara, Sultanpura, Lakshmipura, Sundan, Luneshvar Mahadev, Gohelnagar, Kesarpuri

19

Atladra

10

400

15,000 distributed
10,000 given to Collector

10,000 daily for 5 days

5

Atladra, Bhimtalav, Akota, Bajva, Tandarja, Gotri, Subhanpura, Chapad, Mujmahuda
250 families served meals in city
Food packets distributed in 50 villages

20

Sarangpur

4

50

60,000

Ranpur, Aniyari Kasba, Hadalabhal, Balol, Karsangadh, Devpara, Janshali, Pipali, Navagamkarna, Buranpur

total

20

107

1675

189,001

326,200

95 Villages, 16 Areas (Highways, Railway Station, Hospital, School, Societies, Relief Camps etc.)