He was a spiritual colossus who, at age 11, travelled barefoot across the length and breadth of India in seven years. Hailed as an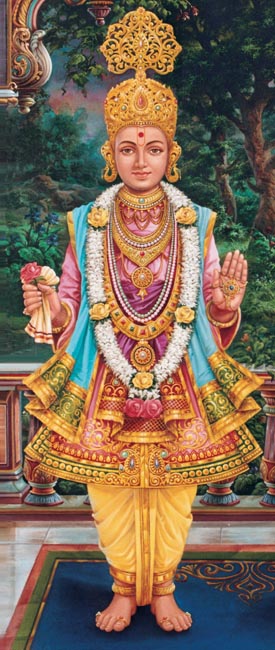 unremitting champion of peace and purity, he crusaded against the crippling evils of society. Thousands admired him, obeyed him, and above all, revered him as God.
Early Years
His name was Bhagwan Swaminarayan. He was born on 2 April 1781 in the village of Chhapaiya, near Ayodhya. He was called Ghanshyam in his childhood years. His birth was a blessed light that had dawned on earth. Extraordinarily brilliant, by the age of 10, he had mastered Sanskrit Grammar, the Vedas, Upanishads, Bhagvad Gita, Dharmashastras, Puranas, and Shad-Darshanas in a short span of three years. He left home at the tender age of 11 to redeem mankind.
Teenage Yogi
Assuming the name, Nilkanth, his spiritual travels took him from Kailas-Mansarovar in the Himalayas in the north to Rameshwar in the south; and Somnath in the west to the Kamakshi mandir and Ganga Sagar in the east. At the time of Nilkanth's spiritual travels Sanatan Dharma was facing assaults from many degenerate religious leaders. He was thoroughly dissatisfied with the ignorance and malpractices of some of the religious leaders who he came across in the course of his journey. At Kamakshi in Assam, a tantrik, Pibek, tried to destroy Nilkanth; but he failed and was himself spiritual transformed. At Jagannath Puri, the chief of a gang of fake sadhus very nearly killed him. Nilkanth's intention was to inspire people to lead virtuous and purposeful lives according to the tenets of dharma by freeing them from the clutches of these charlatans.
But what were the resources that young Nilkanth had at his command? His chief asset was his pure, supreme divinity that was reflected in his resplendent personality and serene face to the wide range of people he met during his pilgrimage.
Maharaja Ranjit Sinh, the doughty Sikh ruler who carved a niche for himself in the annals of Punjab history, was impressed with Nilkanth and sought his refuge on meeting him at Badrinath and Haridwar. The king and queen of Butolnagar in Nepal offered their daughters and their kingdom. The mahant of Shripur mandir was greatly impressed by Nilkanth's feat when he tamed a ferocious lion, and proposed that he become the head of the mandir and manage its hefty annual income. Young Nilkanth declined all offers with a smile. His mission was not to rule kingdoms, ashrams or be honoured with fame and riches.
Wherever he travelled, Nilkanth asked five questions regarding the nature of jiva, ishwar, maya, Brahma and Parabrahma. He did not get satisfactory replies to these questions till he reached Ramanand Swami's ashram at Loj in Saurashtra (Gujarat). With Ramanand Swami away on tour in the Kutch region, Muktanand Swami satisfactorily answered his questions. Moreover, in addition to a detailed understanding of spiritual philosophy, Nilkanth was pleased upon witnessing the ashram's willingness to live in accordance to dharma.
Transforming Society with Spirituality
When Ramanand Swami returned, he gave diksha to Nilkanth and named him Sahajanand Swami and Narayan Muni. A year later, shortly before he passed away, Ramanand Swami handed over the reins of the fellowship to Sahajanand Swami, who was only 21 years old. As the new leader of the fellowship, Sahajanand Swami gave the Swaminarayan mahamantra to the congregation. Thereafter he became popularly known as Bhagwan Swaminarayan.
From the age of 21 to 49, he introduced a moral, social and spiritual renaissance with the help of 3,000 paramhansas and sadhus that he had initiated. He exhorted people to lead a life of character and faith in God. He asked them not to kill, even in yagnas, and to abstain from illicit sex, eating meat, drinking alcohol and addictions.
He was against the prevailing rigidity in the caste system and opposed untouchability. He championed the welfare of women and abolished evil practices like sati and female infanticide. He succeeded in transforming lawless people like Joban Pagi, Sagram Vaghri and others into great devotees. He had a following of two million devotees, and was hailed as a torch-bearer of Indian culture. In paying tribute to Bhagwan Swaminarayan's divine personality and mission, Mahatma Gandhi would later say, "The work accomplished by Bhagwan Swaminarayan in Gujarat could not and would never have been achieved by the law."
Bhagwan Swaminarayan established six traditional mandirs and promoted the bhakti tradition in the Sampraday. He wrote the Shikshapatri in Sanskrit, which is a code of conduct for renunciants and householders. The Vachanamrut is a compilation of his spiritual discourses which include the essence of the Vedas, Upanishads, Itihas, Purans and the Dharma shastras.
Bhagwan Swaminarayan wrote the Shikshapatri in Sanskrit, which is a code of conduct for renunciants and householders. The Vachanamrut is a compilation of his spiritual discourses by four of his paramhansas.
Spiritual Philosophy
The worship of Bhagwan Swaminarayan and Aksharbrahma Gunatitanand Swami, his ideal disciple and first successor, is the lynchpin of the Swaminarayan philosophy.
Philosophically, Bhagwan Swaminarayan is considered Purushottam, or God. And Gunatitanand Swami is Aksharbrahman - His divine abode, also called Akshardham. God, in His fullest glory, eternally resides in Aksharbrahman Gunatitanand Swami. They are ever together, inseparable – God as the Master and Gunatitanand Swami as the ideal devotee, the disciple. On earth, every spiritual Guru in Bhagwan Swaminarayan's succession is the incarnation of Aksharbrahman in whom God resides fully and eternally. As every Guru is the same Aksharbrahman entity, the devotees feel no spiritual change, except the physical change of another successor. It is clear that the Guru is not God, but is God's ideal devotee in whom God resides eternally.
Spiritual Successors
Subsequently, the gurus who have followed in the Swaminarayan Sampraday have continued the work of Bhagwan Swaminarayan. The first guru was Aksharbrahma Gunatitanand Swami. He was succeeded by Bhagatji Maharaj, Shastriji Maharaj, Yogiji Maharaj, and the present guru is Pramukh Swami Maharaj.
In 1907, in accordance with the Vedic preachings of Bhagwan Swaminarayan, Brahmaswarup Shastriji Maharaj established the Bochasanwasi Shri Akshar Purushottam Swaminarayan Sanstha (BAPS).
As the Sampraday believes in Ekantik Bhakti and God with a form, several mandirs were built to spread bhakti and upasana. Bhagwan Swaminarayan had himself built six mandirs. Shastriji Maharaj built five mandirs and consecrated the murtis of Bhagwan Swaminarayan and Aksharbrahma Gunatitanand Swami (Akshar Purushottam Maharaj). He was succeeded by Yogiji Maharaj who spread the Satsang to East Africa and England. The present leader, Pramukh Swami Maharaj, has made BAPS into a worldwide socio-spiritual organisation, personally inspiring and consecrating over 700 mandirs. The Akshardham monuments at New Delhi and in Gandhinagar, Gujarat, epitomise the glory of Indian culture, values and principles for the uplift of mankind. The many traditional shikharbaddh mandirs in India, as well as in London, Nairobi, Chicago, Houston, Toronto and Atlanta are centres of spiritual enlightenment and service to society.