Introduction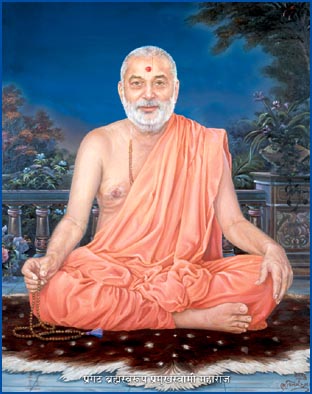 Shastri Narayanswarupdas, popularly known as Pramukh Swami Maharaj, is the fifth spiritual successor of Bhagwan Swaminarayan (1781-1830 ce) – the founder of the Swaminarayan Sampraday.
Birth
Pramukh Swami Maharaj was born on 7 December 1921 (Magshar sud 8, Samvat 1978) in the small village of Chansad, in Vadodara district. His childhood name was Shantilal. His parents, Motibhai Patel and Diwaliba, were farmers and staunch disciples of Shastriji Maharaj.
The divine glow in Shantilal's eyes and his spiritual sincerity made him the cynosure of all eyes. Young Shantilal went for darshan to the Swaminarayan mandir in Chansad daily. His association with Shastriji Maharaj and his sadhus, whenever they came to Chansad, strengthened his affiliation and love for satsang. Shantilal developed a yearning spend the rest of his life in the service of God.
Renunciation and Initiation
When Shantilal was 17 years old he received a letter from Shastriji Maharaj inviting him to becoming a sadhu. Shantilal was overjoyed. His parents happily complied with Shastriji Maharaj's wish and gave him permission to become a sadhu.
On 22 November 1939, Shastriji Maharaj gave Shantilal parshad diksha at Ambli-Vali Pol in Amdavad. On 10 January 1940, Shastriji Maharaj initiated him as a sadhu and named him Sadhu Narayanswarupdas. Within a short time his austerity, renunciation, tolerance, patience, purity and devotion to the guru blossomed and revealed his pure saintliness. Within ten years, he earned Shastriji Maharaj's divine grace. In 1950, Shastriji Maharaj, with great foresight, appointed Narayanswarup Swami as the President of the Bochasanwasi Shri Akshar Purushottam Swaminarayan Sanstha. At that time no one had the faintest idea that one day the 28-year-old Narayanswarup Swami would be venerated throughout the world.
In 1951, Shastriji Maharaj passed away and Yogiji Maharaj succeeded him. For the next twenty years Pramukh Swami served under the instructions and blessings of guru Yogiji Maharaj. In 1971: Yogiji Maharaj passed away and Pramukh Swami Maharaj succeeded him to continue his mission.
Socio-Spiritual Works
It is impossible to describe the work of Pramukh Swami Maharaj who has transformed BAPS from a sapling into a sprawling banyan tree.
When one looks at his pristine, saintly life one is faced with the question as to which of his many divine facets is most outstanding?
As the torchbearer of Hindu revival in modern times.

As a guru who has spread the universal message of morality and spirituality preached by Indian culture and Bhagwan Swaminarayan in over 52 countries.

As the inspirer of over 700 marvellous mandirs, including the impressive Swaminarayan Akshardham cultural complexes in New Delhi and Gandhinagar, the world renowned Shri Swaminarayan Mandirs in London, Toronto, Chicago, Atlanta and Houston, and thousands of centres of character development worldwide.

As the president of the global BAPS Swaminarayan Sanstha.

As an epoch-maker who has channelled the energies of hundreds of thousands of youths towards the path of spirituality and service to society.

As an initiator of educated youths into the sadhu-fold for lifelong service to society.

As an inspirer and organizer of state-of-the-art educational and hostel complexes and health institutions.

As a promoter of literature, music and the arts.

As one who harnesses modern science and technology for the propagation of spiritual wisdom.

As an idol of compassion who has rescued and rushed relief materials to those devastated by natural disasters in Gujarat, Andhra Pradesh, Maharashtra, Orissa, Kutch, Karnataka and other states.

As one who has tirelessly made 15,500 visits to towns and villages in India and abroad – regardless of time, the vagaries of weather, discomfort and health – for the benefit of mankind.

As a giant who has unfurled the flag of India's cultural heritage in the West.

As a liberator of the downtrodden and poor.

As a pure, ideal disciple absorbed in supreme devotion of God.

As a living brahmaswarup Sadhu – the crowning glory of all sadhus.
Besides all these features, one can add many others to his fathomless divine personality. In the words of the late Jain acharya Muni Sushilkumarji, "India has been nourished and enriched by the Buddha, Tirthankars, Ram, Krishna, Nanak and other sadhus and divine incarnations. We had been waiting for someone who could lead India's cultural revival – who could nourish India spiritually, socially and politically. By God's grace we have found such a person. His name is Pramukh Swami. If we want to unite India, then it can be done so through the leadership of Pramukh Swami. Pramukh Swami is not the head of the Swaminarayan Sampraday alone but also the head of the Hindu faith. No, not the head of Hindu Dharma alone, but also the head of Indian society."
Honours and Recognitions
Swamishri's most impressive trait is his egolessness. He is humble and simple, natural and transparent. There is not even an iota of deception in him. He has no desire for honour or self-importance. He speaks straight from the heart, with no frills added. He is never stressed by the daily activities he performs. After having helped someone, there is not a trace of self-praise in his words or actions. He claims no proprietorship in all that he has inspired. He asks for no rights. His mantra is, "In the good of others lies our own, and in the happiness of others abides our own." With this ideal, Swamishri works for the good of all.
Whoever comes to him experiences a feeling of warmth and serenity. And that is why his divine personality has touched the hearts of all – from the tribals of Gujarat to the elite and intelligent people of the world.
The renowned multimedia producer, the late Professor Jaroslav Fric, opined, "Pramukh Swami is a great part of the Infinite. I can say with conviction that he is a true guru and the embodiment of Bhagwan Swaminarayan on earth."
The late Ron Patel, Pulitzer Prize-winning editor of the Sunday edition of The Philadelphia Enquirer, experienced the filial love of his father in Swamishri's affectionate personality.
Han and Theo Kop, Dutch nationals, see Swamishri as a unique guru.
Professor Washington Okuma of Kenya felt an indescribable peace when he saw Swamishri for the first time.
The holy spiritual leaders of India also hold Swamishri in high esteem. H.H. Chinna Jeer Swami says that he sees Pramukh Swami as "a spiritual sculptor." The president of the Divine Life Society, H.H. Chidanand Swami, considers Swamishri to be "an idol of morality in our contemporary age."
The late Head of the Ramkrishna Mission, Raipur, H.H. Atmanand Swami, said, "Oh! What a humble man. What a divine man! I've yet to see such people in abundance. One of the very rare souls that our country has. I have not travelled far and wide, I have gone to some countries, but he is one of the most impressive men I have met in my life; very dedicated, spiritually very high, at the same time wonderful organizing capacity. Pramukh Swami is so silent, at the same time making so many people so active."
Many heads of other faiths have been impressed by Swamishri's divine personality, namely, H.H. The Dalai Lama, Pope John Paul II, Rabai Lau (leader of the Ashkenazi sect) and Rabbi Doron Bakshi (leader of the Sephardi sect) of the Jewish faith, the Archbishop of Canterbury and Jagjitsinghji (Sikh leader).
Various heads of government and royalty who have been touched by Swamishri's saintliness include: Tony Blair, Bill Clinton, Prince Charles, Manmohan Singh, Atal Bihari Vajpayee, and many others.
The eminent economist and advocate, Nani Palkhiwala, said, "It is difficult to pen down the achievements of the Akshar Purushottam Swaminarayan Sanstha. Under the stewardship and inspiration of Pujya Pramukh Swami Maharaj, his sadhus have dedicated themselves to the propagation of nonviolence, brotherhood and spiritual awakening that will become a hallmark of Indian culture."
The founder of Amul Dairy and former chairman of the National Dairy Development Board, Bharat Ratna Awardee, Dr Kurien, declared, "What Swamiji is able to achieve makes what little I have achieved very insignificant. One then realizes what goodness can achieve, what piety can achieve, what the devotion of his followers can achieve. And I wish, I too will receive a small portion of this."
The honour accorded to him by the British and Canadian Parliaments, 'Key to the City' presentations, honorary citizenships and 'Pramukh Swami Day' declarations by many cities of America and England speak of his globally appealing personality.
Pramukh Swami Maharaj's universal appeal as a great spiritual master lies in his austerity, renunciation, dedication and supreme devotion to God.
Vicharan
Another unique aspect of his life is his untiring vicharan. Regardless of physical discomfort, he continuously travels for the benefit of society. And that is why there is no answer if anyone were to ask him for his address. There is no inventory of the hardships he has put up with to please the devotees. He has sacrificed his entire life for the good of others. Despite having had a cataract operation, gall bladder removed, a heart attack, bypass surgery and arthritis he has not reduced his activities.
In 1985, in spite of illness, he had visited 95 villages in Gujarat in 20 days. In the village of Vasad, Swamishri sanctified 121 homes from 9.00 am till 3.30 pm with a fever of 102 F.
Swamishri has sanctified homes by walking 2 kilometres in the undulating Badalpur region on the Mahi riverbank. His home-visits on the hilly grounds of Bamangam village would exhaust any energetic youth. He has also travelled for months in the scorching summer in the arid region of Bhal, breathing the sand-laden air and drinking its muddy lake water.
Swamishri has undertaken home-visits during tight schedules and in the aftermath of natural calamities. He has also paid home-visits to please devotees by getting up from his lunch at 2.30 pm.
Along with his tireless vicharan, he performs scores of socio-spiritual activities to uplift society, which are simply amazing. Furthermore, he has personally convinced and inspired hundreds of thousands of people to give up addictions and practise spirituality. Besides his one-to-one dialogue in solving problems, he receives hundreds of letters asking for guidance and blessings. So far he has read and replied to over 500,000 letters.
Conclusion
Through his leadership the BAPS has taken giant strides, and in spite of its colossal growth Swamishri has never compromised in observing the five cardinal moral injunctions prescribed for sadhus by Bhagwan Swaminarayan, namely, celibacy (nishkam), non-covetousness (nirlobh), non-taste (nisswad), non-attachment (nissneh) and humility (nirman).
Pramukh Swami Maharaj is always relaxed despite his multifarious activities. The secret of his happiness and coolness lies in his supreme devotion to Bhagwan Swaminarayan.
A reporter in London once questioned, "In spite of being engaged in so many activities how is it that you are always fresh?" Swamishri replied, "I do not allow any amount of activities to get to my head. I do not feel burdened because I believe the fruits of all activities are due to God's wish. I perform all actions by following God's commands and remembering him. One does not feel the burden of activity when one keeps God in the forefront in all that one does. One should discard one's ego and become engaged in God and the guru. By giving up one's resolves and abiding by his wishes and believing him to be the doer, one experiences eternal happiness."
On seeing Akshardham in Gandhinagar, L.K. Advani, a stalwart national leader, asked Swamishri, "Who has made it?"
"God," Swamishri replied instantly. "Whatever there is belongs to God and it is all because of him."
These sentiments of God's doership are echoed unceasingly in his supreme devotion to him. On seeing his devotion to the murti of Harikrishna Maharaj (Thakorji), H.H. Chidanand Swami of the Divine Life Society observed, "To see Swamiji with his supreme Master is a sight which is a privilege even for the gods. He never separates himself from his Lord. In all important events, be it on stage or wherever, he always places the murti of God in the foremost position. In his presence, the murti of God is always given priority. Pramukh Swami is like a matchless crown of our society."
Swamishri's profound divinity, care and compassion are beyond the ken of human intellect. No amount of thought, emotion or endeavour can enable one to understand him or realize him fully. However, a little realization of his divine personality does enable an aspirant to become a recipient of his grace, and thus experience the joys of pristine divinity.