Early Years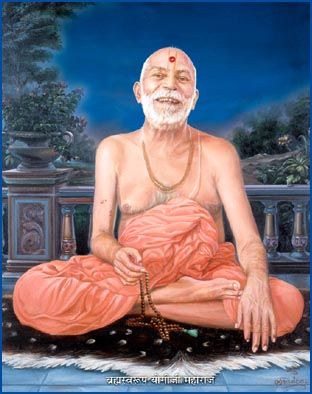 His birth, today, calls for a great spiritual celebration, yet on 23 May 1892, the village Dhari allowed it to pass quietly with little stir or attention. Neither Devchandbhai, nor Puribai, his father and mother, were aware of the magnitude of the birth of their fourth child. And they routinely named him Jhina, the 'small one'.
Perhaps nothing more beautifully summarizes his life than this; he silently concealed his greatness at all times possible.
Yet how long can you withhold the sun from shining?
He grew up to become one of the purest forces of the spiritual world, a sadhu who was admired as the essence of the eternal experience.
Twelve years after meeting Yogiji Maharaj, Swami Chinmayanand, the President of Chinmaya Mission writes:
"The experience I had of Yogiji Maharaj cannot be expressed in language. He is a living mass of what is to be Experienced in the Upanishads. The bliss of the self-supreme exploding out of that aged body, wafting a steady fragrance of pure love, gushed into those who came near him to fill up the hearts of others – even when they were not pure enough to receive and retain it. Hence, none wanted to leave him and his presence. To such a master we can only prostrate and not write about."
"He was a man ripened with love," said Muktanand Baba.
"Meeting him was like hugging God."
"So immersed was Yogiji in God, that not all the people of the world combined, could withdraw him from God, even for a fraction of a moment."
"Once in a thousand years sadhus like Yogiji Maharaj appear on our earth."
These are just some expressions of those who happened to meet him.
Yet great people are better understood through experience than expression, for they choose to write their lives through actions.
"He never cried as a child," reports the farm-owner where his mother worked. This simple fact grows in importance when we consider his whole life. Because he never sulked throughout his life. Joy seemed to be his inborn birthright.
In his early days, he had only two loves: his school and the village mandir. His teachers never stopped praising his gift for memorizing passages and songs and even whole chapters. Intellect he had in abundance, but it was his unbroken smile that won him special affection. He ranked first throughout his school life and was lauded for his regularity and sincerity.
Yet, one day, his schooling was gravely threatened; his devotion to truth and honesty whipped up trouble. When the much feared headmaster of their school brutally thrashed a young classmate, Chandu, to death, no pupil dared to whisper a complaint, even when the officials inquired. Who would? Only Jhina stood up as eyewitness. Within his small frame there stood a mountain of confidence which nobody could defy. Young Jhina was prepared to sacrifice education but not the values he cherished. Ultimately, he was rewarded and adored for his heroism. He had become the favourite of his friends and all other townsfolk admired his popularity. However, Jhina displayed one pecularity that puzzled everyone.
He withdrew from the world. If given a choice to play or ponder, to speak or remain silent, to read or meditate, he would doubtlessly choose the latter. And this was the stamp of his towering spiritual might that was to later lead thousands of souls.
Often he would be found meditating on the rocks of the Shetrunji river. Often he would be found in the local Swaminarayan mandir serving the sadhus, sweeping the surroundings and talking with the murtis of God. And often he had to be dragged home from the mandir.
By the time he reached his teens it had become clear that Jhina was destined for a future uncommon to the common man and beyond the reach of an ordinary school boy.
Renunciation and Discipleship
And in 1910, at 18, his real life began; the life he had come for, the life God had sent him for. Jhina sacrificed all his other loves, his friends and family, his school and studies for his highest love – God. He renounced the world, and became Sadhu Gnanjivandasji. From then onwards, he moulded his future according to the wishes of his guru, Shastriji Maharaj.
Shastriji Maharaj was the enlightened guru, who embodied the Swaminarayan Sampraday. It was to this faith that young Jhina committed himself. Bhagwan Swaminarayan, the incarnation of Supreme God, had appeared on the earth in 1781. During his short lifespan of 49 years he had revived Ekantik Dharma, strengthened society morally, socially and spiritually and revealed the Vedic truth of the Akshar Purushottam Philosophy. Behind him, he left a legacy of mandirs and scriptures and a spiritual hierarchy of enlightened gurus –Gunatitanand Swami, Bhagatji Maharaj and Shastriji Maharaj, who was the third spiritual successor.
Nobody knew that young Gnanjivandasji was divinely sent to become the fourth successor, and so his life progressed like a silent stream, destined to become an ocean.
As a sadhu, he gave up caring for his body, dismissed any desire of the world that dared to cross his path. He rose beyond self-importance and spent his days in arduous service. Waking up before 4.00 am and resting not earlier than midnight, he cooked food and washed utensils, swept the mandir yard and halls, served pilgrims and cleaned the kitchen, cared for the ill and old and did not eat till the last man in the mandir had satisfied his hunger. It was a hard life, physically exhausting and perhaps the cause of the many illnesses he was to suffer in his later years. However, he enjoyed every moment of it, for his service brought joy to others. He continued to serve even while fasting nine days in a month, forbidding himself even a drop of water on the day of fast. While performing seva, he would memorize chapters and verses from the scriptures. He did this not to become a scholar or an orator, but to him, all else had become immaterial. In his total surrender to God and his guru, he became the recipient of Divine Grace. Soon people began to lovingly call him 'Yogi', one who is ever-steady in God.
The five prime moral and spiritual principles of the Swaminarayan sadhu were sincerely seen in the life of Yogiji Maharaj.
He was Nishkami, a lifetime celibate. The radiant lustre on his face reflected the purity of his mind which remained free from lust and ill thoughts.
He was Nirlobhi. He had no possessions, no wealth; he never touched money. Despite being the leader of an international spiritual movement, with thousands of followers, not one penny or institution was under his name.
He was Nissnehi, a sadhu who had no attachment to anything or anyone except God.
He was Nisswadi, beyond likes and dislikes of taste. He ate in a wooden bowl, in which he mixed all his food, even if it be a variety of sumptuous dishes. For him, the menu or the manner of cooking was not important. What mattered most was whether it had been offered to God or not. He refused to drink even a drop of water if unoffered to God.
He was Nirmani, beyond pride and ego. He considered himself low and insignificant, unable to do anything without the will of God. A leading statesman of India said, "Not once does Yogiji Maharaj seem to be conscious of being Yogiji Maharaj." He was beyond ego, and that helped him reach out to one and all.
Divine Leadership
In 1951 Shastriji Maharaj passed away, leaving the Sanstha in the hands of Yogiji Maharaj. Even as the head of the whole fellowship, nothing changed in his way of life, just as his schedule of service did not alter when he had been appointed the head of the Gondal mandir, earlier at 42.
Now he was 59 and the whole responsibility of the progress and welfare of thousands of people were upon his shoulders. He tirelessly moved from country to country, city to city, village to village, visiting every hut and home. His mission remained to free people from the traps of addictions and superstitions and to help them lead a holy, God-centred life. His affectionate nature drew both childern and youngsters who enjoyed his company and valued his wisdom. Some became sadhus and joined his mission. Others helped to run the hundreds of children and youth centres he established around the world. Apart from building mandirs, he advocated the creation of educational centres, such as, schools, hostels and gurukuls. Annual conventions and seminars, regular discussions on spiritual matters, and above all, his personal care remained most effective.
Yogiji Maharaj was a master craftsman of the hearts of the people. He never forced or compelled, never hurt or humiliated the beliefs of others; he simply lived his life in divine harmony with God. And in doing so, somehow, his presence inspired answers to life's toughest questions.
He is often remembered for the large smile that never left his lips, his loving pat or the expressive gestures of his hands. However, today, decades after his departure in 1971, his presence is felt through his spiritual successor, His Divine Holiness Pramukh Swami Maharaj, whom he revealed as his 'whole and sole'. The mission he had continued from Shastriji Maharaj, is being furthered by Pramukh Swami Maharaj. The Bochasanwasi Shri Akshar Purushottam Swaminarayan Sanstha (BAPS) has grown into an international organisation with over 3,300 centres and a million followers. The seeds once planted by Yogiji Maharaj are finding form in the colossal social and moral renaissance Pramukh Swami Maharaj has ushered into the young and old of this world, highly essential at this junction in history.