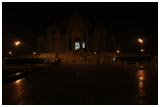 On 26 March 2011 at 8:30 p.m., Swaminarayan Akshardham in New Delhi participated in the international celebration of Earth Hour. For one hour, Swaminarayan Akshardham supported this worldwide commitment towards environmental conservation by switching-off its lights.
Around the world, Earth Hour is embraced by the global community, transcending race, culture, age and economics as individuals and organizations take leadership in their communities in the pursuit of a cleaner and safer planet.
In 2011, hundreds of millions of people took part in the one hour switch-off to celebrate the Earth Hour, which encourages an energy-saving lifestyle to help minimize the degradation of the earth's natural environment, and reduce pollution and the carbon footprint.
Earth Hour now has global support in which world famous and iconic places on all seven continents participate, for example: Sydney Opera House and Harbour Bridge in Australia, the Colosseum of Rome, Italy; the Pyramids of Giza in Egypt; Malaysia's Petronas Twin Towers; the Empire State Building and Mount Rushmore in the USA; Swaminarayan Akshardham Mandir, Rashtrapati Bhavan and India Gate in India.

Earth Hour was also observed at BAPS mandirs in North America, as well at Swaminarayan Mandir, London, UK