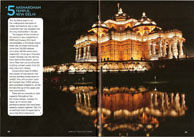 In its July 2011 UK edition (pp. 46-57), the prestigious Reader's Digest monthly magazine has selected Swaminarayan Akshardham in New Delhi as one of 'The Seven Wonders of the 21st Century'.
Inspired by Pramukh Swami Maharaj and inaugurated in November 2005, the 100-acre Swaminarayan Akshardham complex was completed in only five years. The main Mandir is built predominantly of Rajasthani pink sandstone and contains no steel in its structure. It is 141 ft high, 316 ft wide and 356 ft long and features superb intricately hand sculpted stones which are meticulously assembled like a giant jigsaw. Over 25 million visitors have been awed by the breathtaking art and architecture, and inspired by its universal message advocating a value-based life that promotes peace and harmony in society.
Describing Swaminarayan Akshardham on p. 52, Reader's Digest write:-
"The Taj Mahal used to be the undisputed champion of India architecture, but a new contender has now stepped into the ring: Akshardham Temple.
The biggest Hindu temple in the world, it was completed in 2005 and houses 234 hand-carved pillars, a 12-minute indoor boat ride, an Imax cinema and more than 20,000 statues (including 148 life-sized stone elephants). Hindu guru Pramukh Swami Maharaj was the driving force behind the project, and a lotus-filled lake surrounding the building contains water from 151 holy rivers he's visited.
construction took 12 million man-hours-if one person had started building Akshardham in AD650, they still wouldn't quite be finished - but11,000 artisans and volunteers chipped in, so the temple shot up in five years and cost some 30m.
There are no concrete steel supports throughout the ten-story design. Instead, it's made up of carved pink sandstone blocks that have been expertly slotted together. Still, it's so well built that it's expected to see in the third millennium."
The other six selections on the Reader's Digest list of 'The Seven Wonders of the 21st Century' are:
Spring Temple Buddha, China
Cave of Crystals, Mexico
Museum of Islamic Art, Qatar
Baha'i Terraces, Israel
The Darvaza Gas Crater, Turkmenistan
Millau Viaduct, France
For further details of Swaminarayan Akshardham visit www.akshardham.com.