Johannesburg witnessed a weekend of joyous festivities when His Divine Holiness Pramukh Swami Maharaj graced the city on 9 September 2004. Having completed a long and rigorous 5-month spiritual tour of UK, USA and Canada, he arrived in Johannesburg, South Africa at the start of his African tour.
The highlight of his trip to Johannesburg was the opening of the first traditional style Mandir and cultural complex in Lenasia, south of Johannesburg, on 10th, 11th, 12th September. This three day event was attended by an average of five thousand people per day and included guests from as far as USA, UK, India, Canada, and East Africa.
Highlights of Key Events:
10th Sept: Vishvashanti Mahayagna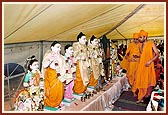 Swamishri performed the yagna rituals and consecrated the murtis. About 350 people participated in the yagna as part of the murti-pratishtha ceremony.
10th Sept. Nagar Yatra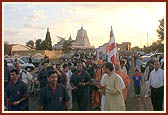 The mood then turned festive as a Nagar Yatra paraded through the streets of Lenasia, from 3:00 pm to 6:30 pm, displaying ornately decorated floats carrying the murtis to be installed in the mandir. The murtis of Shri Akshar Purushottam Maharaj, Shri Radha-Krishna Dev, Shri Sita-Ram with Hanuman, Shri Shiv-Parvati with Ganapatiji, and the Guru Parampara were displayed on floats. BAPS sadhus sang kirtans as devotees in traditional dress danced with joy and devotion. The parade route passed all the main mandirs in Lenasia.
Thousands of people, representing Hindu organizations around the country participated in this parade with traditional dances and singing.
11th Sept. Murti-Pratishtha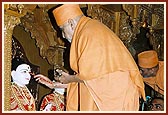 On this auspicious day, His Divine Holiness Pramukh Swami Maharaj inaugurated the BAPS Shri Swaminarayan Mandir, first traditional style Hindu mandir in Lenasia, Johannesburg. Swamishri arrived after his morning puja and officially opened the mandir. He then made his way inside to perform the murti-prathistha ceremony in accordance with Vedic rituals. Swamishri invoked the spirit of God into the murtis of Bhagwan Swaminarayan, Aksharbrahma Gunatitanand Swami, Shri Radha-Krishna Dev, the Guru Parampara, Shri Sita-Ram and Hanumanji and Shri Shiv-Parvati and Ganapatiji. He then performed the arti and darshan and blessed the participants.
After the ceremony Swamishri made his way to the main entrance of the mandir complex where he released red and white peace balloons.
The landscape of Lenasia was changed forever on this day.
12th Sept. 10:30-12:30: Sanman Sabha
During this assembly, members of the community who have made great contributions to social service and advancement of South African society were honoured.
The Guest of Honour was Mr Pravin Gordon, Commissioner of South African Revenue Services. In his speech he appealed to the Indian community to unite in building a better South Africa for all and that the Mandir be the center for uniting people and uplifting society.
Other guests, namely, Laloo "Isu" Chiba, Reggie Vandeyar, Mickey Padiachee, Ismail Vadi, Prema Naidoo and Ebrahim Ismail Ebrahim were honoured for their contributions to social upliftment in our society, each in their unique ways.

Facts and Figures about the BAPS Shri Swaminarayan Mandirs Lenasia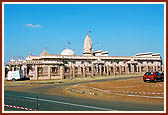 The Mandir is located on 1100 square metre of prime land at the corner of Hydrangea Avenue and Bengal Street, Lenasia Ext 11.
The plans for the Mandir were drawn up in India by the architects of BAPS's Planning Cell and finalised in South Africa.
The construction of the Mandir project began in April 2003 and it was consecrated by Pramukh Swami Maharaj on 11 September 2004.
Some of the components were imported from India to preserve the traditional art and architecture of Mandir construction.

The mandir has one Shikhar, one Gummat, one Samran, twelve Gumtis, thirty-six Gavakshas (window frames) and hundreds of Kangras.
Nine hand carved doors made of solid Burmese Teak together with a large hand carved Sihasan (main altar) made of solid Cherry Wood has also been specially made in India.
All ten murtis to be installed in the Mandir are made of marble. Of course, no Hindu Mandir is complete without the golden Kalash.
Modern technology has been used to make all the intricate patterns on pillars, columns; beams and torans.