The newly-constructed Pramukh Swami Youth Centre at the BAPS Shri Swaminarayan Mandir in Auckland, New Zealand was ceremoniously inaugurated on Sunday 30 August 2009. The two-storey building with 8 spacious rooms is part of the Mandir Campus that will facilitate learning. Boys and girls of different age groups from 6 to 25 will conduct weekly assemblies, group discussions, seminars, and annual conventions in the new facility. They will also learn about Indian Culture through arts and crafts, music, drama, classical dance and literature. In addition, a recreation room will provide indoor games for all age groups.
The Youth Centre, which took almost three years to build, was jointly inaugurated by the leader of the opposition Hon. Mr. Phil Goff, MP and Mark Inglis, who in 2006 became the first double amputee in the world to conquer Mt. Everest. The inauguration ceremony began at 9.15 a.m. with a Vedic Mahapuja Ceremony conducted by Adarshmuni Swami. Guests and devotees from all around Auckland and other cities such as Wellsford, Whangarei, Rotorua, Christchurch, Wellington and Hamilton participated in the auspicious ceremony. Next, an assembly was held in which the children performed a welcome dance and the devotees were appreciated for their contributions and support. Appreciation plaques were presented to all the stage guests on behalf of BAPS Swaminarayan Sanstha.
Hon. Mr. Phil Goff mentioned in his speech, "I offer my congratulations to all of your community. This shows a huge commitment, a huge dedication and a huge support for your faith. It's our responsibility to ensure that young people have the opportunity to develop their character positively. In modern day society there are many traps and temptations that would lead our young people on the wrong path. That makes it all the more important for organizations such as yours. This Youth Centre will instill strong values." In conclusion, Mr. Phil Goff lauded the social activities of BAPS and paid a glowing tribute to HDH Pramukh Swami Maharaj for the promotion and maintenance of Indian Culture in New Zealand.
Mark Inglis was fascinated to see so many youths so spiritually active. He mentioned in his inspirational speech, "It's a great privilege to be here in your community. The sense of community is incredibly strong. The future is great when we lead and mentor our youth, which is what I see happening here today. Congratulations to all of you for investing your time and energy for your youth. It will pay back in fantastic dividends." A special plaque was presented to Mark Inglis in recognition of all his outstanding endeavors. The stage guests were Mr. Jeet Suchdev, Chairman of the Bharatiya Samaj Charitable Trust, Judge Ajit Singh, Mrs. Vijaya Vaidyanath, CEO of Waitakere City Council and representatives of the various companies that constructed the Youth Centre.
Volunteers, young and old, had worked together diligently for the past three months to make the Grand Opening Ceremony a memorable occasion for all.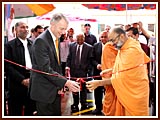 Photo Gallery