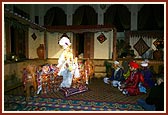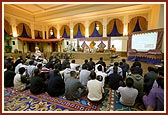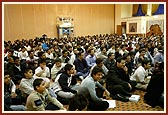 VACHANAMRUT
The Divine Words of Bhagwan Swaminarayan
Walking through the decorated doors of the Kishore Mandal quadrant, at the Shri Swaminarayan Mandir, Neasden, London, sprinkled with glorious posters and trim Indian designs, over 480 kishores and kishoris from every corner of the UK were transported back to the era of Bhagwan Swaminarayan. A magnificent seated murti of Maharaj dressed in sparkling white robes and a dazzling grey and white pagh was placed adjacent to an exceptionally constructed, sublime and authentic replica of Dada Khachar's Darbar, where Bhagwan Swaminarayan delivered thousands of divine discourses. A selection of these were complied by four renowned paramhansas to produce the Vachanamrut, an encyclopaedia of answers to life's burning questions.
Aiming to educate and develop an affinity for Shriji Maharaj's divine words, translated with subtle, simple language, this Shibir provided an insight into this unique scripture through a variety of media ranging from devotional songs to presentations, with sadhus and kishores underlining its importance. Beloved Guruhari Pramukh Swami Maharaj, through a live telephone conversation from Bangalore at 11 p.m. local time, touched on the nectar of Shriji Maharaj's words, urging regular reading of the Vachanamrut to experience its fragrance, its power, its spirituality and its godliness.
Classroom sessions to discuss the Vachanamrut in more detail were also held. The elements and background of the Vachanamrut were analysed with greater depth, as Shriji Maharaj's beautiful use of analogies and metaphors, merged with subtle and simple language, and His mastery of scriptures and practical experiences provide a fountain of answers to any type of problem. Records of dates, times, places and details of Shriji Maharaj's attire confirm the authenticity of the Vachanamrut; tributes to the four compilers of the Vachanamrut were also made.
Beloved Guruhari Pramukh Swami Maharaj summarised the importance exquisitely in his video blessings, "The route to Shriji Maharaj's Akshardham is through His divine words."