Winners of the first ever Yagnapurush Cup – Congratulations to North A!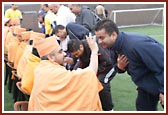 Greeting participants

Saturday 24 March 2007 marked the day of the first ever National Yuvak Mandal 5-a-side football tournament – the Yagnapurush Cup. The venue was Goals Soccer Centre on Alperton Lane, London, where 24 teams competed for the prestige of being the first to engrave their name on the new Cup.
All the teams arrived by 9:30am as the tournament was opened in the traditional manner by Yogvivek Swami in the presence of Harikrishna Maharaj. The group stages were enjoyed by all and saw some competitive games as 16 teams qualified for the knock-out stages. It was a bitterly cold day, but with the sadhus and supporters that had turned up, and with many teams staying on to watch the remaining teams in the later stages, a tremendous atmosphere was created. Piping hot food and drinks for lunch ensured all the teams and supporters stayed warm.
Southend-on-Sea steamrolled on to the final, spearheaded by the attacking talents of Himansu and Hemanshu. They scored 19 goals on the way to the final beating a spirited Birmingham A side in the semi-final. North A, with Shyam, Yogin and Jayesh, produced scintillating attacking football scoring 15 goals on their route to the final, beating a strong and one of the early tournament favourites Leicester A 3-0 in the other semi-final.
The final produced some great passing moves but Yagnesh rolled back the years and was a rock at the heart of North A's defence. However, with Dipesh and Tarshan putting in tireless displays for Southend at the back, the game stayed locked at 0-0. The first Yagnapurush Cup Winners were destined to be decided by penalties. The goalkeepers, Meetul for Southend and Chirag for North, had been in commanding form the whole tournament and were now thrown into the limelight. Chirag managed to pull off two magnificent saves as North A won the penalty shoot-out 2-1 to lift the Yagnapurush Cup in a nail-biting finish.
Winners: North A – Shyam Mehta(C), Jayesh Patel, Yagnesh Depala, Yogin K Patel, Chirag Patel, Yogesh Alaiya
Runners-up: Southend-on-Sea – Himansu Patel(C), Hemanshu Patel, Tarshan Patel, Dipesh Patel, Meetul Patel, Yogen Patel
Player of the Tournament: Hemanshu Patel
Top Goal-scorer: Yogin Patel (11 goals)