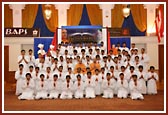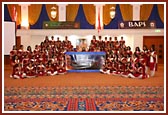 "Vachanamrut – Modern Problems, Ancient Solutions" was the theme of the 2007 National Kishore-Kishori Vidyarthi Shibir which took place from 21 December to 23 December at BAPS Shri Swaminarayan Mandir, London. With over 170 delegates selected from all over the UK, the shibir consisted of a series of workshops, interactive discussions, interviews and group activities which highlighted the timeless messages contained in the Vachanamrut.

The shibir commenced with an enlightening themed-opening video followed by an interview of the sadhus from North America, in which they shared the secrets of success outlined in the Vachanamrut followed by motivational accounts of kishores and kishoris across the continent. Next was a workshop on the techniques of reading the Vachanamrut, and more importantly, how to contemplate upon the messages.

On the second day, the delegates participated in an 'Art of Writing' workshop, highlighting the various styles and techniques of writing. This was followed by an interactive discussion on the effects of bad company and the solutions for safeguarding against them. 'Time: A Precious Commodity', the penultimate session, emphasised the importance of good time-management with many practical tips from older kishores and sadhus. The final session of the day, 'The Road to Success', provided an in-depth insight into study methods, exam techniques and making the most of one's education. It inspired and drove home Swamishri's message, to 'Be the Best'. The evening was reserved for the eagerly awaited outing where all participants enjoyed a guided tour of London by night, followed by a visit to the spectacular Tower of London where the kishores put their ice-skating abilities to the test – some more successfully than others!
The first session on the third day, 'Challenging Convention', consisted of an interview panel in which each of the groups of delegates had to defend a statement using references from the Vachanamrut. The next session, titled 'Open Your Minds', consisted of an in-depth question and answer session with the resident sadhus. The concluding session, 'Swamishri – Our Living Vachanamrut', illustrated the undeniable relationship between Swamishri and the Vachanamrut. The session was rounded off by a speech on the importance of following Swamishri's words and how to remain continually motivated to achieve one's full potential. After lunch, the winning groups were awarded with an exclusive A1-sized poster of Swamishri.
Alongside the sessions, the Shibir also emphasised the importance of personal Satsang development. Aside from performing daily arti, thal and cheshta, delegates also learnt how to do smruti and pranayam. They also had the opportunity to perform abhishek of Nilkanth Varni. Overall, the programme proved a great success as participants departed with renewed confidence and enhanced abilities which will undoubtedly propel them to greater heights in their education as well as their personal Satsang. Most importantly, it is hoped every delegate will read the Vachanamrut regularly and imbibe its message into their lives – since this divine scripture truly does provide real solutions to our everyday modern problems.