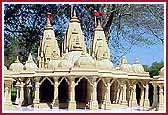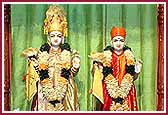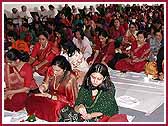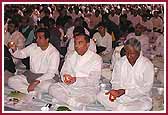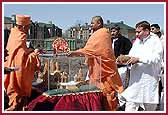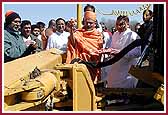 BAPS Initiates Mandir Construction with a Grand Ceremony
Sunday, March 3, 2002, Houston, TX
The Bochasanwasi Shree Akshar Purushottam Swaminarayan Sanstha (BAPS) initiated the construction of the new mandir (temple) with a grand ceremony. Devotees and well wishers from Dallas, San Antonio, Austin and Greater Houston gathered together with great joy to celebrate this momentous occasion, at the Shri Swaminarayan Mandir (BAPS) in Stafford.

The Shri Swaminarayan Mandir, to be built entirely out of stone and marble and in accordance with the ancient Indian architecture (sthapatya shashtra), will be the first Mandir of its kind in the Southwest. The estimated life span of such a Mandir is over 1,000 years. H.D.H. Pramukh Swami Maharaj has consecrated over 400 mandirs all over the world and this mandir in Stafford will mark the first of several Swaminarayan mandirs to be built across North America.

The need for such mandirs is best described in the words of H.D.H. Pramukh Swami Maharaj: "A mandir
is a center for realizing God
is where the mind becomes still
is a place of paramount peace
inspires a higher way of life
teaches us to respect one another
sustains our unique identity"
The festive event started in the morning with the Mahapuja, which was performed by the mandir pujaris and two saints, to the accompaniment of Vedic chants. Devotees and well wishers from the Southwest region also participated in performing the Mahapuja. At the end of the ceremony, Thakorji, Saints, pujaris and several devotees, braving the cold windy weather, went to the grounds where the mandir construction will soon commence, to conclude the puja. Delicious Mahaprasad followed the Mahapuja ceremony.
The evening program included captivating bhajans and speeches. During the evening program, P. Yagnavallabh Swami addressed a group of devotees on the significance of the mandirs. In conclusion he said that the purpose of the mandir is to offer a sanctuary of peace and tranquillity for the entire community where different aspects of Hinduism will be celebrated for generations to come. The program concluded with prayers for all those who lost their lives in the troubling communal violence in Gujrat and for peace to prevail in the region. The events of the evening concluded with Aarti and Mahaprasad.