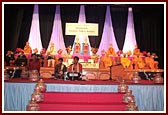 BAPS Shri Swaminarayan Mandir hosted an evening to appreciate the Toronto Police Service on October 22, 2008 for their support and cooperation in the creation of BAPS Shri Swaminarayan Mandir and Canadian Museum of Cultural Heritage of Indo-Canadians.

Toronto Police Chief William Blair and Dr. Alok Mukherjee, Chair of the Toronto Police Services Board, were the chief guests of honor along with 150 officers who attended the event.
The guests were traditionally welcomed at the mandir by volunteers before they proceeded to the tour of the Mandir and the Museum.
The appreciation assembly began with a program of classical devotional music. A 'World Peace Prayer' was recited by the youth tying spirituality to the work the Toronto Police Service is doing to keep the city safe.
Toronto Police Service, the 23 Division and Dr. Alok Mukherjee were presented with 'Certificates of Appreciation' by BAPS, in recognition of their outstanding service to the community in creation of the BAPS Shri Swaminarayan Mandir and for 'Building Bridges with the community'. In addition, selected officers were individually recognized for their exemplary service to the community.
Chief Bill Blair said the structure is inspiring and, the community within it is a partner to police. "I believe our organizations share similar values. The concept of Seva – selfless service – is embodied within the very foundation of our respective organizations. We are driven by mutually revered core values and principles such as honesty, integrity, fairness, positive attitude, respect, reliability and team work." He further said, "By sharing time and knowledge of their heritage and traditions, BAPS has strengthened the bond between police and the Hindu community. The members of my service are strengthened by you and the knowledge you share with us – I thank you as friends for your inspiration, hospitality and support."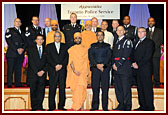 The Police Chief, on behalf of Toronto Police Service, presented an award to BAPS Swaminarayan Sanstha and to BAPS Charities, reading: "In recognition of its many vital contributions and leadership in the social, economical, and cultural life of our city – and for the tremendous spirit of unity with the Toronto Police Service"
Toronto Police Services Board Chair Dr. Alok Mukherjee appreciated that the Mandir inspires countless individuals to volunteer in their community in a variety of ways.
Speaking on the occasion, Pujya Chaitanyamurti Swami expressed the need to rise above ourselves and do good for others. Subsequently Pujya Gnanpriya Swami explained that the Toronto Police and BAPS Mandir had a common goal to protect the society. While the police protects the society from social ills, the various spiritual activities of BAPS protects the society from evils.
His Divine Holiness Pramukh Swami Maharaj sent blessings from India for the Toronto Police Service. "May society be well-protected through your efforts. May all of Canada be at peace and may the country prosper."
The Mayor of Toronto, His Worship David Miller also sent a message of congratulations on the occasion. The event ended with an enjoyable experience of vegetarian Indian cuisine for all.