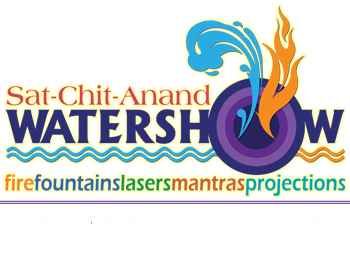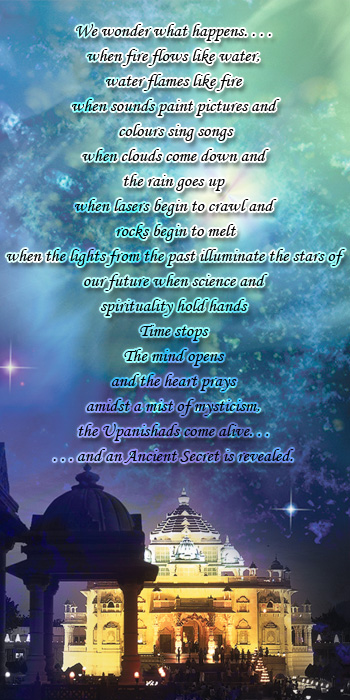 Welcome to the Sat-Chit-Anand Water Show – a breathtaking and enchanting addition to the Swaminarayan Akshardham complex in Gandhinagar. The show reveals India's ancient secret of inner light through an Upanishadic story of Nachiketa, a nine year old boy, who bravely confronts Yamraaj, the God of Death, and receives from him the knowledge that has made India, a land of enlightenment. It is an interesting show with a meaningful message of human harmony and inner peace.
Many technological elements of Sat-Chit-Anand makes it truly unique in the country, with a 130-feet wide and 70-feet high water screen, around 4,000 nozzles, 2,000 lights, over 100 pumps, 160-feet long sea-of-fire (fire spreading on water) along with several fireballs, three powerful lasers, all enhanced by 7.1 surround sound system. All of these are controlled with extreme precision, and each effect playing in sync every fraction of a second.
The show has been produced by BAPS Swaminarayan Sanstha in Creative and Technical collaboration with ECA2, a world-renowned creative agency from France. The Show Concept, Story, Design, Direction and Production have been done by BAPS, whereas Creative Direction, Technical Direction and Show Programming have been done by ECA2.
BAPS Swaminarayan Sanstha (BAPS) is a social, cultural and spiritual organization headquartered in India with a worldwide network of over 3,300 centers. BAPS is a not-for-profit charitable NGO affiliated with United Nation's Economic and Social Council. Along with more than 100 types of social and humanitarian services (www.baps.org/activities), BAPS also nourishes universal values and human harmony through cultural centers like Swaminarayan Akshardham in Gandhinagar and New Delhi (www.akshardham.com) and Swaminarayan Mandir in London (www.mandir.org).
ECA2's Creative Director, Yves Pépin, has conceived and staged one-off productions for a host of landmark events, including: the Euro Disney Opening Ceremony, the Opening and Closing Ceremonies of the 1998 Football World Cup in Paris, and the 2004 Paralympic Games in Athens. He was also Artistic Advisor, along with Steven Spielberg and Ric Birch, for the Beijing 2008 Olympic Games Opening and Closing Ceremonies. Yves Pépin has also created permanent multimedia shows for theme parks such as Sea World (USA), Futuroscope (France), Tokyo Disney Sea (Japan) and Sentosa (Singapore). (www.eca2.fr)
The Sat-Chit-Anand Watershow production is quite unique because it has been created by the love, dedication and devotion of 400 BAPS volunteers, who have worked totally free-of-cost for many months or even years! These professional volunteers have given their talents, time, effort and money to make this wonder possible. Due to the noble cause and purpose of the project, many companies and creative individuals have also supported the project by offering their talents and assistance.
The purpose of the Sat-Chit-Anand Water Show is to reveal the wisdom of India through spectacular multimedia effects. This is a first-of-its-kind immersive show in India, with very few such shows across the world; and possibly the only one with a value-based, spiritual message.
| | |
| --- | --- |
| Location: | Swaminarayan Akshardham, Sector 20, Gandhinagar 382020. |
| Telephone: | +91.79.2326.0001, +91.999.8.999.800 / 700 |
| Email: | |
| Shows: | Daily except Mondays. |
| Timings: | 7.00 pm. Please note that timings will change as per season, depending on Sunset timings. There may be a second show at 8:00 pm on Saturdays, Sundays and other holidays. |
| Note: | As Sat-Chit-Anand is an outdoor show, it is subject to cancellation due to rainy weather. Seating usually begins 60 minutes prior to each show, so arrive early to ensure you get a seat. Guests sitting in the first few rows may get wet during the show. |