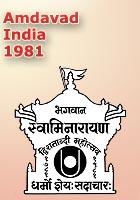 First BAPS International Festival, 1981 India:

| | |
| --- | --- |
| | Gloriously spread across an area of 200 acres, the festival land was filled with fascinating displays of designs and architectures of Indian Culture, unique messages of moral living, and universal harmony were conveyed through systematic programs. The 37-day festival was held in Amdavad - one of the leading cities of Gujarat. |
The festival was celebrated to mark the Bicentenary of Lord Swaminarayan, who had reached out to better both the outer and inner life of man. Hence, all our festivals are also popularly called 'Festivals for Better Living'.

Other Mega Festivals:
| | |
| --- | --- |
| | Mumbai,India,1995 |
| | Gandhinagar, India,1992 |
| | Edison, USA,1991 |
| | Amdavad, India,1985 |
| | London, UK,1985 |
Highlights & Achievements:
A land of 200 acres was transformed into a dazzling spiritual township called Swaminarayan Nagar.
10,000 youth volunteers worked day and night for 3 months.
Over 8 million people visited the festival.
One majestic temple and four exquisite gates with masterful designs created out of bamboo, jute cloth and paper pulp.
A classic exhibition portrayed Indian Culture, moral ideals and spiritual values through 30 breathtaking dioramas.
Inter – Religious Harmony. A 3-day conference wherein 1,500 leading saints
and masters of different sects were called to embark upon projects to enhance unity.
Restoration of Peace. At the time when Amdavad was torn apart by caste
and communal riots and killings, the festival atmosphere pacified tension and spread a feeling of peace and harmony.
Over 8,000 people vowed to shun addictions.
207 educated youths became saints to serve God and society.
Selected pictures of this festival are available in Photo Gallery.