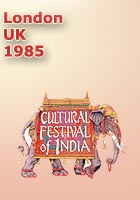 CULTURAL FESTIVAL OF INDIA, UK:
The first Cultural Festival of India in London captivates the British in England:
| | |
| --- | --- |
| | 'India Dawns in London' - a display on many London city buses proudly heralded the Cultural Festival of India in the city of London. And truly, for 33 days, from 15 July to 18 August 1985, the whole of U.K. basked in the magic of Cultural India. |
| | The Festival was the first of its kind in the West. Eighteen acres of the famous Alexandra Palace were transformed into a cultural wonderland which gave precious glimpses of India's music and melodies, science and spiritualism, arts and architectures... The outstanding feature was that all the gigantic structures were crafted in India, shipped to London and assembled as a large jigsaw. |

Other Mega Festivals:
| | |
| --- | --- |
| | Mumbai,India,1995 |
| | Gandhinagar, India,1992 |
| | Edison, USA,1991 |
| | Amdavad, India,1985 |
| | Amdavad, India,1981 |
Highlights & Achievements:
More than a million visitors from U.K., Europe and from as far as the U.S.A., Africa and India flocked to the Festival.
4 majestic mandirs, 16 spots and 5 towering gates reflected the traditional Indian craftsmanship, rarely seen in the West.
14 different traditional dances in all their splendor were performed regularly on satellite stages.
Enlightening seminars by learned sadhus and scholars of the world.
'Cradle of Civilization' exhibition journeyed through 5,000 years of Indian Culture through vivid medias.
2,000 dedicated volunteers worked round the clock to successfully manage the colossal event.
20 food and shopping stalls treated visitors with Eastern delights.
Created an air of unity, as many organizations extended collective cooperation.
Thousands of Britons said that their visit had created greater understanding about India's glorious culture and heritage.
Many Indians felt proud of their mother culture, restored their faith in themselves.
Anti-addiction and Anti-drug campaigns inspired a great number to forsake their habit.

Selected pictures of this festival are available in Photo Gallery.