" Delhi is the throne. The flag should fly high in Delhi. A pinnacled monument will rise. The land which has been performing penance shall be acquired. Now Yamunaji is waiting. She has become restless. With certain surety, land on the banks of Yamunaji will be acquired. The Lord will fulfil this in his divine way."

- 1969, Yogiji Maharaj
And three decades later what was said and seen by Yogiji Maharaj has become reality.

Tha vastness of his vision has just begun to unfold like the seeds of a great civilization.

This day, time and moment will freeze forever in history, while its message and philosophy will flow eternally. For, Akshardham philosophically means the imperishable abode of the Supreme God, a divine place of peace, purity and perfection.

Dedicated to Lord Swaminarayan, it will abound with the blessings of all his spiritual successors - Akshar Brahman Gunatitanand Swami, Bhagatji Maharaj, Shastriji Maharaj, Yogiji Maharaj and presently Pramukh Swami Maharaj who has inspired this unparalleled creation to fulfil his Guru's vision and in turn will gift our country, our planet with a permanent place that will inspire generations to come.

The Main Monument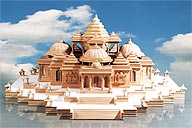 125 ft high, 260 ft wide and 310 ft long, it will be a marvel in pink sandstone. Evoking the auspiciousness of Badrinath, majesty of Somnath, geometry of Modhera, mysticism of Ellora and grandeur of Angkor Wat, it will rise to stand with other great monuments of culture. Designed and sculpted entirely according to the ancient Indian Sthaapatya Shastras, it will be built to last thousands of years, profusely carved with 120 ornate pillars, 1200 delicate statues and statuettes, 40 filigreed arches, layers of Indian flora and fauna. Ancient mandirs and monuments are being carefully studied to create pure, authentic Hindu carvings through hundreds of craftsmen from Rajasthan, Gujarat and Orissa, reviving stone art.
The Gardens will be meditative with creative sculptures and fountains.

The Cultural Exhibitions will be experiential, where visitors will be able to rediscover and relive Indian culture and values through the most modern, interactive technology. The three exhibition hall will depict ...
Walk-Thru Values will display eternal Vedic Values of love, nonviolence, perseverance, faith and tolerance.
Feel-Thru Spiritual India - a multiscreen projection system, will take viewers into a visual journey through India, her breathtaking sceneries, pilgrim places and cultural festivals.
Sail-Thru Time will re-create exact environments of the Vedic, the Ramayan, the Mahabharat and contemporary years.

The Research Center will be futuristic, conducting research in social harmony.

The Auditorium will promote cultural programs, music and seminars.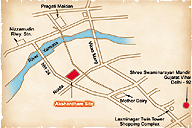 Venue
Akshardham, NH 24, Noida Mor, New Delhi - 110 092

Contact Address
BAPS Swaminarayan Mandir
8, Gujarat Vihar, New Delhi - 110 092
Tel: (011) 242 6688, 246 6688
Fax: (011) 221 3655