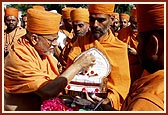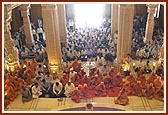 Fourteen days after the terrorist attack on Akshardham, the entire complex - with its main monument and exhibition halls - were ceremoniously declared open by Pujya Ishwarcharan Swami and senior sadhus. The opening ceremony took place at 9.34 a.m. with the chanting of Vedic peace prayers (Shanti Path), mantras and worship. After the auspicious ceremony of splitting a coconut and untying a nada-chhadi at the main gate, over 500 BAPS sadhus and devotees walked towards the main monument chanting the Swaminarayan dhun.

Then the traditional Janmangal Namavali - 108 names of Bhagwan Swaminarayan - was chanted by all as rice grains were offered as abhishek to the murti of Bhagwan Swaminarayan. This ritual is performed to remove any fears and reinstate an atmosphere of divinity and peace in the entire complex. In conclusion, arti and mantra pushpanjali were offered.

The Central Reserve Police Force (CRPF) are looking after the security of Akshardham complex. All visitors have to pass through a metal detector and frisking to ensure the safety and security of the complex.