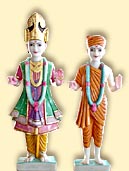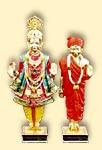 Murtis of Bhagwan Swaminarayan and our Gurus
A vast variety of colorful and attractive murtis of Shriji Maharaj and our spiritual gurus - murtis that will transform the appearance and atmosphere of your living room and spread divinity throughout your home...
Available in many sizes incl. 4"x6", 40"x52", 30"x48", etc.
Laminated - small and large sizes.
Murtis of Bhagwan Swaminarayan, Akshar Purushottam, etc.
'All-in-One' murtis of our spiritual gurus.
Various colorful and unique poses of Pramukh Swami Maharaj.
Murtis of Akshardham and London Mandir.
Murtis made of various materials - metal, marble dust, etc.
Akshardham,Mahamurti 12"x17"
Akshar Puru. betha 17" x22"
Akshar Puru. Ubha 18" x23"
Akshar Puru.Ubha fr 24" x30"
Ghanshyam Maharaj (1-4) 8" x10"
Ghanshyam Maharaj 18" x23"
Ghanshyam Maharaj Gondal 18" x23"
Panchmurti No.4 9.5"X6.5"
Panchmurti No.5 10"X14"
Panchmurti No.6 11"X16"
Panchmurti No.7 17"X25"
Panchmurti No.8 w/fr 20"X30"
Panchmurti No.9 w/fr 28"X40"
Pramukh sw.foil photo 6" x8"
Pramukhswami, 1 to 9 8"x10"
Pramukh sw.blk/blue 10"x12"
PSM Hath Jodela 12"x15"
Pramukhsw. sofama 12"x15"
Pramukhsw. jamata 12"x15"
Pramukhsw. jamata 16"x20"
Pramukhsw. sofama 17"x22"
Pramukhsw.sanmuk 17"x22"
PSM with pagh 19" x24"
Pramukhsw. b/w 17" x22"
Pramukhsw.betha fr 24"x30"
Pramukhswami ubha 9"x15"
Pramukhswami ubha 15"x25"
Pramukhswami Ubha fr 20"x36"
Shriji Ma. Mantramurty 12"x15"
Shriji Maha.half 17" x22"
Shriji Maha.full 17" x22"
Shriji Maha.betha fr 24" x30"
Shriji Maha. betha 30" x40"
Shriji Maha.+manki 18" x23"
Thakorji + bapa 12" x17"