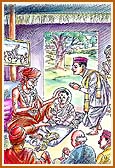 That auspicious day dawned on Vasant Panchami, the fifth day of the bright half of the month of Maha of Samvat year 1921 (Tuesday, 31st January, 1865). On that day Shastriji Maharaj was born in Mahelav, a village consecrated by Shriji Maharaj in the Charotar area of the beautiful land of Gujarat. His father's name was Dhoribhai and mother's Hetba. They had five children. The eldest son was Mathurbhai, next was Laldas and the youngest was Dungarbhai, who was later known in the sampraday as Shastriji Maharaj. They had two daughters named Sonaba and Raliatba. The family was satictified by Shriji Maharaj, as their grandfather Ajubhai Jhaveridas had come in contact with Shriji Maharaj
Dungar Bhakta was very gentle and charming. Everyone was attracted to him. Everyone loved him from his very childhood. When he was six months old, Vaikunth Brahmachari and Shukanand Muni went to Mahelav. The elder brother Mathurbhai took Dungar Bhakta to the saints and requested them to offer him vartaman (initiation into the sampraday). Dungar Bhakta stared at the saint with unblinking eyes.
After having initiated him into the sampraday, Shuk Swami placed his hand on the child's head and while blessing him said : "This child is a very pious devotee from his past birth and in future he will renounce the world, become a sadhu and emancipate your family." Mathur-bhai went home and retold the story to the members of his family. They were all pleased to hear it. The following year Mul Aksharmurti (the eternal and primordial image of Akshar) Gunatitanand Swami, passed through Mahelav on his way back to Junagadh from Vadtal where he had gone to attend the religious festival of the full-moon day of Chaitra. Mathurbhai took Dungar Bhakta to the Swami and requested him to initiate the child. The Swami asked : "Has he not been initiated as yet?" Mathurbhai replied : "He has been initiated by Shuk Swami last year."
At this, the Swami remarked : "Shuk Swami was the right hand of Shriji Maharaj. Hence the initiation received from Shuk Swami is as good as that from Shriji Maharaj Himself." With these words, he placed his hands on the child's head, and bestowing his blessings, said : "This brother of yours will one day become a sadhu, spread the doctrine of supreme nistha (devotion) of Shriji Maharaj and will support and develop the sampraday by his discourses and talks to the people." Swamishri then looked at Dungar Bhakta with gratification and gave him the prasad of sugarcandy.