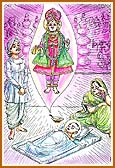 It was observed from his very childhood as if these words of Swamishri were coming true. His childhood pranks abounded in devotion and divinity. Many a time he would show strange miracles. He took ill on the very occasion of his sisters' marriages. Soon his condition became serious. His breathing stopped, his pulse ceased beating and he went into a trance in a happy communion with the form of Shriji Maharaj.
His parents thought that the child was dead. They covered his body with a piece of cloth and placed him in the neighbour's house so as to complete the marriage ceremony unhampered. When they went to Dhulabhai's house with heavy hearts, after the completion of the ceremony, everyone was surprised to see that Dungar Bhakta was lying there playfully kicking and laughing. His body was resplendent with beams of light around him. All the members of the family therefore became intensely jubilant.
After some time his mother died, so Dungar Bhakta was under the exclusive protection of his father. His father also took great care of him and showered love on him. Dungar Bhakta turned out to be quite different from the other children. When other children played all sorts of popular games, Dungar Bhakta would build temples from clay, install Thakorji's idols in them, place thal (plate of foodstuffs) at His feet, arrange annakut (a vast variety of food articles), offer aarti to the deity and play games of devotion. Everyone who saw this felt that this child would become a great saint in future.
At the age of six, Dungar Bhakta went to Karamsad on the occasion of a marriage in the family. When all the rest were engaged in celebrating the marriage, Dungar Bhakta searched for and found a temple in the village and engaged himself in the worship of the deity. Everyone searched for him when it was time for lunch. At last they found him in the temple. But he refused to eat anything on that day because it was ekadashi. People were surprised to see this six-year old boy observing the ekadashi fast, leaving aside the delicious dishes.
All those present pressed him to eat. Some four hundred people who had gathered for the wedding persuaded him, but Dungar Bhakta remained firm and said: "I have heard from the scriptures that to eat cooked food on ekadashi is like eating meat. I will not, therefore, take any cooked food today." All had to bow before his firmness. So sweets like pendas and barfi were brought from Anand and served to him. The story of the steadfastness of this child-devotee spread in the whole village and people thronged to have his darshan.
Dungar Bhakta was as fond of religious stories as of acts of penance. Everyday he listened to Ramayana, Mahabharata and Bhagvat from his father. He also listened to the recitations from the Vachanamrit, Bhakta-chintamani, Nishkulanand kavya, etc., and went to sleep at night after duly performing the niyam-cheshta (prayers to be offered before retiring to bed). Such was his devotion.