The Protective Shield of Gunatit: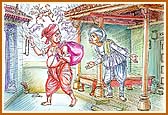 When a person like Heerabhai of Bochasan became a satsangi (devotee) the opponents grew wild. Three armed palas (guards) riding on camels set out to kill Swamishri. There was no cause to worry, however, as Swamishri had already left Bochasan in the morning. But thinking that if the guards were taught a lesson, they would never repeat the adventure, Heerabhai detained them. He thrashed the camels heavily with a stick with the result that the guards got frightened and ran away promptly with the camels.
When this plan did not succeed, the guards again, set out after about six or seven days with more elaborate preparations. Swamishri was then in the village of Sadhi. Laxmiprasad Acharya was then camping at village Ranu, about a couple of miles away from Sadhi. Having come to know that Swamishri was at Sadhi, the guards started for that place. That morning Swamishri suddenly asked Ashabhai to bring a bullock-cart as soon as possible to enable him to leave for Padra. Ashabhai requested him to leave after taking lunch, but Swamishri replied: "Let the other sadhus stay here until lunch, we will eat in Padra."
From Sadhi Swamishri went to Sejakuva instead of Padra. When Mahijidada saw the guards at Sadhi he was very angry. He scolded and even abused them. In the meanwhile someone ran to the outskirts of the village, loosened the knots by which the camels were fastened and set the animals free. But the kothari of the temple informed them that Shastri had gone to Padra. The guards, therefore, proceeded to Padra. The devotees began to worry: "What will happen now? What can we do if they reach Padra and beat Swamishri?" But Swamishri was constantly under the care and protection of Shriji Maharaj and Gunatitanand Swami.
Exactly at this time Gunatitanand Swami gave darshan in a divine form to a devotee by the name of Arjanbhai, of village Mota Gokharwala, situated in Kathiawad. Gunatitanand Swami went to his house. He was wearing a knotted dhoti, and had neither his turban on the bead nor shoes on his feet. Arjanbhai got up and prostrated at Swami's feet and requested him to sanctify his house. But Swami replied: "I cannot come now. My devotee is in trouble in Gujarat, so I am going there to protect him." With these words Swami disappeared!
The guards reached Padra. On not finding Swamishri there, they were disappointed, and in spite of hunger and thirst they proceeded to return to Sadhi. When they approached Sadhi, a big herd of buffaloes was seen coming from the opposite direction. The buffaloes, frightened at seeing the camels, started running helter-skelter. Some of them collided with the camels, and the guards sitting on them fell down and were seriously injured. At last they hired a bullock-cart from the village and returned to Ranu. Thus Swamishri was protected by Shriji Maharaj.