Narayanswarupdas Appointed as President: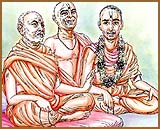 Swamishri wanted to entrust to a suitable successor the responsibility of carrying on the whole administration and management of this great institution founded by him, and of maintaining and developing the satsang. For this purpose he selected the 28-year-old young saint Narayanswarupdas. From his very childhood this eminent saint possessed noble virtues like renuciation, detachment, devotion and dharma (righteousness). He stayed with Swamishri, served him in various ways and won his favour. He was loved by all for his virtues of saintliness, practical wisdom, scholarship in scriptures, sweet tongue and ability to win over people. Hence this decision of Swamishri received hearty approbation of all in the satsang,
The ceremonial function for the appointment of the President was arranged in the consecrated temple at Amli Pole in Ahmedabad. Swamishri seated Narayanswarupdas between himself and Yogi Swami and, addressing the gathering said: "Just as Sadguru Ramanand Swami had handed over the gadi to Shriji Maharaj in His young age, so do I also hereby appoint from this day Sadguru Shastri Narayanswarupdas as the president in my place. Though young in age, he is mature in virtues. I, therefore, call upon you all saints and devotees to co-operate with him in bringing glory to this responsible office. Besides, you will from now onwards, obey Sadguru Shastri Narayanswarupdas in the same way as you have done for me."
Thereafter he addressed Shastri Narayanswarupdas thus, "This Yogi Maharaj is a vachan-sidha (of proven words) and a very eminent saint. You should glorify the satsang by remaining under his protective shelter." Swamishri then said to Yogi Swami: "Jogi, I entrust this Narayanswarupdas Swami to your care. Bestow on him benedictions so that he may be endowed with virtues like yours." With pleasure Yogi Swami gave his blessings to Narayanswarupdasji.
Thereafter, Swamishri blessed Narayanswarupdas by imprinting a round mark of vermilion on his forehead and placed his own chadar (saffron robe) on Narayanswarupdas' shoulder. Since that day, Narayanswarupdas has been known in the Satsang by the affectionate designation of 'Pramukh Swami' (Pramukh means President).
Narayanswarupdas bowed to Swamishri by prostrating at his feet. He bowed to all the saints and humbly said: "Whatever power or knowledge I may have, it has been given to me by you. Please give me all the necessary power and strength to enable me to perform the duties you have kindly entrusted to me." The whole satsang was happy at the appointment of Narayanswarupdas as the President.