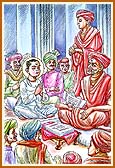 Dungar Bhakta began losing interest in staying at home. He had set his mind on leaving home and becoming a sadhu. He wasn't much attached to his relatives. It was hard for him to keep away from the contact of the saints. Whenever he went to Vadtal on the full-moon day, he stayed there for two or three days and heard religious discourses from the saints. His visits to Vadtal became more frequent and the relatives began to worry whether he would leave home. Dungar Bhakta was in search of a learned guru (preceptor) who was a real Brahmadarshi (one who perceives Brahman). He was determined to leave home like a snake forsaking its outer skin, once such a guru was found.
At this juncture, on full-moon day of Chaitra of Samvat year 1937, groups of saints from all corners of the country began to pour in for the festival in Vadtal. The group of Vignanagnand Swami attracted the attention of all. Vignananand Swami had lived with Shriji Maharaj for twelve years. Having pleased Shriji Maharaj, he was fully equipped with dharma (righteousness), jnana (knowledge), vairagya (detachment), bhakti (devotion) and other virtues. Besides, he was an eminent scholar of all the scriptures and was also a connoisseur of music. After meeting one saint after another, Dungar Bhakta at last came up to the seat of Vignananand Swami. After Swamiji's darshan and listening to his talks, Dungar Bhakta experienced peace within. He was confident that all his aspirations would be fulfilled by sitting at the feet of this saint. He immediately decided to accept Vignananand Swami as his guru,
Having seen in him such an ardent yearning for liberation, Vignananand Swami felt: "If this boy becomes a sadhu, he can be my appropriate successor." So he put a question to him : "Do you wish to become a sadhu, my dear boy?
"Yes," Dungar Bhakta put that expression on his lips which was uppermost in his heart.
Thus was created the strong bond of affection between the guru and his disciple. Both were richer by reaching each other. Dungar Bhakta longed to go along with Swamiji soon after the festival was over, but apprehending that his father might impede his way, he returned to Mahelav with his father for the time being. On the day Swamiji was to leave for Surat, he proceeded to Vadtal. But as Swamiji's departure for Surat was delayed by a day, his father caught up with him in Vadtal and took him back home.