Only the brave can tread on the Path of God: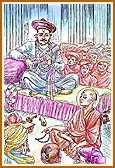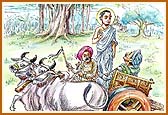 Dungar Bhakta had no interest at home or in any worldly work, and he felt very detached. Frequently, he uttered the words: "Swami, Swami." Ignoring any affection from his relatives, he began to reside in the temple. Vignananand Swami was firmly in his heart. Six to seven months passed in this way. His father got worried at seeing Dungar Bhakta's state of despondency.
Once at an opportune time Dungar Bhakta proceeded to Vadtal and from there to Surat. But his father followed him to Surat and brought him back to Vadtal.
Here he complained to Viharilalji Maharaj : "Your sadhu is kidnapping my son." Thereupon Acharya Viharilalji rebuked Dungar Bhakta. " Do you want to send the sadhu to jail? Do not come here again to become a sadhu." Dungar Bhakta was embarrassed, but the kothari (person in charge of the property of the temple) consoled him and advised him to return after two or three days.
Accordingly, after a couple of days, Dungar Bhakta went again to Vadtal. Acharya Maharaj, on seeing him, called him and asked : "Tell me young man, what have you learnt from the Swami at Surat?" Dungar Bhakta sat down in a proper posture and demonstrated the telling of the beads of the mala (rosary). Acharyashri was greatly pleased and advised all the sadhus to learn to tell the beads in that manner.
Seeing such unusual intelligence and devotion in him Acharyashri was also tempted to keep him in his personal service. He suggested : "Stay with me after your initiation as a parshad (sadhu in whites)." Dungar Bhakta, however, replied courteously with folded hands "Maharaj, I want to go to Surat and stay in Swamiji's service." Meanwhile his father came and took him away.
On the way to Mahelav, Dungar Bhakta spoke to his father at length about renunciation and preached that the relations of one's body are all false and transient. On hearing such a sermon which was full of detachment and which permeated his heart, truth at last dawned on his father, and the curtain of illusion was removed. With tears in his eyes, he bowed to Dungar Bhakta and his eyes remained fixed on him.
The next day, his father affectionately called him and said : "You have come here to worship God and inspire others to do the same. You will not be happy in this house or in this worldly life, please do forever bless us." With these words he wrote a letter of no-objection to Vignananand Swami. He recalled the words of Swami Gunatitanand. And, like an arrow shooting out from its bow, Dungar Bhakta, proceeded to Surat on the auspicious day of the month of Magshar of Samvat year 1938.