Yogiji Maharaj's Life-Work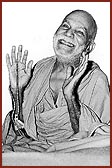 Yogiji Maharaj never tired in explaining the upasana of Akshar Purushottam to the world at large. He toured villages incessantly by day and by night. He would be in one village in the morning, and in the evening he would be in another. Wherever he went, he was warmly welcomed. Aspirants came in large numbers to seek his spiritual refuge and become his disciples. There was an unending series of celebrations, and satsang assemblies. The number of satsangis increased. Yogiji Maharaj started Satsang centres in many villages. He guided and encouraged the satsangis by writing to them regularly.
Accompanied by sadhus and devotees, he twice organized a special train pilgrimage of India. These pilgrim centres were further sanctified by the visits of Yogiji Maharaj, and many more aspirants were drawn towards Satsang. At his request the government built a platform at the railway station in Chhapaiya and named it 'Swaminarayan Chhapaiya'. A tremendous welcome was given to him when he arrived at Chhapaiya.
In recognition of Swamiji's great work, about 10,000 devotees came from all over to celebrate the sixty-fifth birthday of Yogiji Maharaj on 6 June 1956 (Vaishakh vad 12, V.S. 2012) at Sarangpur.
Yogiji Maharaj fulfilled the wish of his guru, Shastriji Maharaj, by consecrating a hari mandir at Akshar Bhavan, in Bombay in 1962 (V.S. 2018). In the same year, he inspired a three-pinnacled shikharbaddh mandir in Amdavad (in the Shahibaug area), and consecrated the murtis of Akshar and Purushottam on 11 May 1962 (Vaishakh sud 7).
He also built a fine mandir at Mahelav, the birthplace of Shastriji Maharaj. In this mandir, besides the painted murtis, he also consecrated a marble murti of Shastriji Maharaj.
The year 1965 (V.S. 2021) marked the birth centenary of Shastriji Maharaj. Yogiji Maharaj was himself 73-years-old, and was in very delicate health. Yet he visited 82 villages in 38 days, despite the biting cold of winter, to create awareness of and collect funds for the centenary celebrations. He was prepared to undergo any hardship to celebrate the centenary in a grand manner. On 6 February 1965 (Vasant Panchmi, V.S. 2021), at Atladra, the birth centenary of Shastriji Maharaj was celebrated with great joy and festivity in the presence of 150,000 devotees.
To promote character-based education amongst students, he established a students' hostel in Vidyanagar and a gurukul in Gondal in which primary and secondary education was given.
Thousands of devotees from India and abroad decided to celebrate the 75th birthday of Yogiji Maharaj (Amrut Mahotsav), through whom Shriji Maharaj was manifest on this earth, with due pomp and ceremony. A souvenir publication named Amrutparva, describing his glorious character and services, was published on this occasion. On this occasion Yogiji Maharaj presented a Rs. 25,000 donation to the Gujarat Government for feeding famine-stricken people. The 200,000 devotees who attended this celebration at Gondal spoke about the glory of his life and work.
Yogiji Maharaj himself laboured with the devotees to construct the Gunatitnagar Railway Station at Bhadra, the birthplace of Aksharbrahma Gunatitanand Swami. In Bhadra, Yogiji Maharaj built a marvellous single-spired shikharbaddh mandir over the birthplace of Gunatitanand Swami. In it, he consecrated the murtis of Dham (Gunatitanand Swami), Dhami (Bhagwan Swaminarayan) and Mukta (Gopalanand Swami) on 7 May 1969 (Vaishakh sud 6, V. S. 2025).
Vedras, a book containing Maharaj's teachings, was re-published at Yogiji Maharaj's request. He also prepared the biographies of his guru, Shastriji Maharaj and Bhagatji Maharaj (the guru of Shastriji Maharaj) for publication. On the occasion of Shastriji Maharaj's centenary celebrations a publication named Yagnapurush Smruti was released. The Harilila-kalpataru – a scripture inspired by Gunatit-anand Swami and written by Achintyanand Brahmachari – was also published through Yogiji Maharaj's initiative. Hindi and English publications on the life and work of Bhagwan Swaminarayan were published. Also, Hindi and English translations of the Vachanamrut were initiated by him. A biography of Gunatitanand Swami was also printed in Gujarati.
Yogiji Maharaj encouraged many devotees to read the Swaminarayan Prakash, the Sanstha's Gujarati monthly periodical. A weekly, named Swaminarayan Satsang Patrika, was also started to provide instructions and news regarding the Satsang to members in various centres, enabling them to conduct regular Sunday assemblies.
Yogiji Maharaj established a school for higher education in Sanskrit for the sadhus in Mumbai. By his blessings and guidance many sadhus became Shastris (BA) and Acharyas (MA) in Sanskrit. Some of the sadhus received government scholarships and doctorate degrees. Moreover, many young sadhus were also encouraged to develop their various innate skills in music, art, writing, etc.
Yogiji Maharaj built many hari mandirs. He held parayans and shibirs by which thousands of devotees benefited from satsang. Many new devotees were attracted and the Satsang grew considerably.
What is remarkable about Yogiji Maharaj is that he was also highly respected by leaders of many different religions. They often approached him for guidance and blessings. They said, "Yogiji Maharaj belongs to all. He is not for the Swaminarayan Sampraday only, but for the whole world." The reason for this was that Yogiji Maharaj respected everyone. He never engaged in or allowed criticism of others. In India and Africa, Yogiji Maharaj visited, without any hesitation, Sikh gurudwaras, Jain derasars, Christian churches and other places of worship. He had great respect for all religions.
Today we see many leaders who allow relaxation or adjustment in their moral codes of conduct to attract more followers. However, Yogiji Maharaj strictly observed eight-fold brahmacharya and the renunciation of wealth. He implicitly obeyed even the most minor commands of Shriji Maharaj.
He captured the hearts of all. And through his socio-spiritual works people looked up to him with reverence and respect.