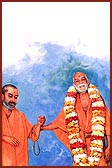 In the year 1950 (V.S. 2006), Shastriji Maharaj appointed Shastri Narayanswarupdasji as the administrative head of the Bochasanwasi Shri Akshar Purushottam Swaminarayan Sanstha (BAPS). All the devotees were asked to work under his orders and guidance. He was only 28-years-old at the time. Since then, Shastri Narayanswarupdasji has been known by the name of Pramukh Swami.
Yogiji Maharaj, wrote about this incident in his diary as follows, "Swami (Shastriji Maharaj) looked at him, 'I want to appoint only him as the President of the Sanstha.' So, he was so appointed at a meeting in Amdavad. I was then sitting nearby. Swami told me, 'Put your hand on his head and bless him so that he acquires your virtues.' So I put my hand on his head, whereupon Shastriji Maharaj said, 'You have placed your hands on his head, by which my hands are also included.' In this way, Swamiji asked me to bless him, and when I did so, he became very happy."
Since then, in accordance with the wishes of Yogiji Maharaj, Pramukh Swami has worked day and night to further the cause of the BAPS. Many sadhus and devotees celebrated the forty-eighth birthday of Pramukh Swami Maharaj in Mumbai. On this occasion Yogiji Maharaj said, "Shastriji Maharaj was highly pleased with him ever since his younger days and so appointed him as the president. How fast and how admirably he has developed the Sanstha! All should obey him implicitly. Pramukh Swami is the manifest form of Shastriji Maharaj. He is not at all different from him. Everyone should behold him with divine feelings. Seven hundred sadhus will be initiated. This task will be fulfilled by Pramukh Swami." Yogiji Maharaj thus revealed the glory of Pramukh Swami Maharaj.
During his final illness Yogiji Maharaj had said, "Pramukh Swami is everything to me. All of you will now enjoy the bliss of God through him."
At present, our beloved guru is His Divine Holiness Swami Narayanswarupdasji – Pramukh Swami Maharaj. Let us please him and enjoy the bliss of Shriji Maharaj.