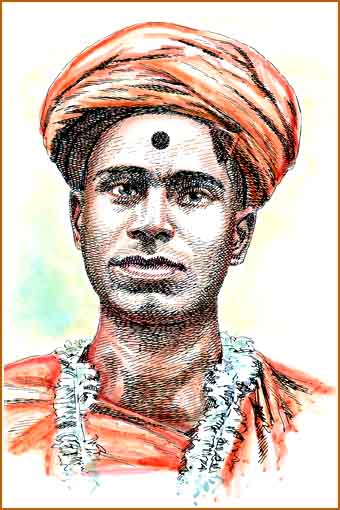 14. The Desireless Sadhu
Yogiji Maharaj was always interested in serving others. All day long he engaged himself in katha (spiritual discourse), kirtan (singing God's glory) and seva (service).) He did not spare a thought to himself. Once he was at Bhavnagar on the upper floor of a devotee's house. He was reading the Swamini Vatu. At the sound of a royal marriage procession, a devotee asked him to come by the window to watch. Yogiji Maharaj replied, "Of what benefit would it be to us? Having renounced something once, why allow it into our hearts!" No worldly glamour or pageant could attract the mind of Yogiji Maharaj. The devotee was impressed by the young Yogiji Maharaj's spirit of renunciation.

Because of his saintliness, the senior sadhus of Junagadh asked him to return, but Yogiji Maharaj remained with Shastriji Maharaj.

On many occasions Yogiji Maharaj was unnecessarily punished by his guru Vignandas. Once the guru became intensely angry and ordered him to get up from his meal. On seeing this a devotee asked, "Why do you tolerate such rudeness and tyranny. Don't you feel like leaving your guru and going home?" Yogiji Maharaj replied, "The guru scolds for one's own good. Without punishment one cannot remain alert and correct one's mistakes." The devotee bowed at the feet of Yogiji Maharaj in recognition of his patience, tolerance and humility.