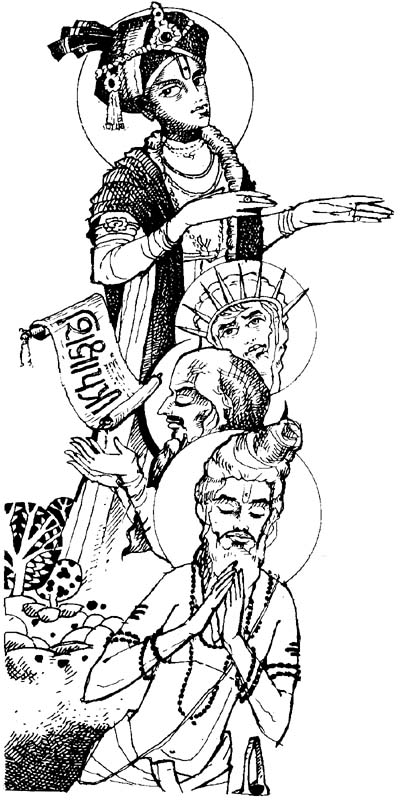 Collector Williamson briefed the Christian missionary Bishop Heber about the extraordinary socio-religious reforms of Bhagwan Swaminarayan. Bishop Heber then met Bhagwan Swaminarayan at Nadiad and was astonished to see hundreds of disciplined devotees from various unruly tribes in the service of the Lord. They were even prepared to sacrifice their lives for Bhagwan Swaminarayan, whereas his bodyguards protected him only to earn a living. Bhagwan Swaminarayan's spiritual heights became obvious. Bhagwan Swaminarayan gave Bishop Heber His book of moral codes - the Shikshapatri.
In spite of ill-health Swaminarayan met Sir John Malcolm, the then Governor of Bombay, at Rajkot in the Kothi Compound's bungalow. Malcolm gave Him a tumultuous welcome and extended his generous co-operation for His reforms. Bhagwan Swaminarayan gave him His Shikshapatri requesting him to protect Brahmins and cows to which Sir John Malcolm willingly agreed.
Bhagwan Swaminarayan's efforts in elevating the moral standards of the masses and providing aid in times of calamities greatly impressed the British.