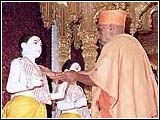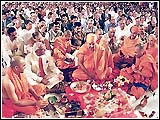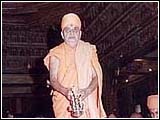 The four-day Mandir Mahotsav climaxed with the inauguration of the temple through the installation of the images of Shri Akshar Purushottam Maharaj and other dieties. HDH Pramukh Swami Maharaj arrived at the new Mandir at 8.30a.m. He officially unveiled the memorial plaque of inauguration before proceeding to the Mandir for the consecration ceremony.
HDH Pramukh Swami Maharaj then performed, according to Vedic traditions, the Murti-Pratishtha ceremony of Shree Akshar Purushottam Maharaj, while the senior saints performed the same ceremony for Radha Krishna Dev (Pujya Mahant Swami), Shree Laxmi Narayan Dev (Pujya Kothari Swami), Shree Bhagatji Maharaj and Yogiji Maharaj (Pujya Viveksagar Swami), Shree Shastriji Maharaj and Pramukh Swami Maharaj (Pujya Ishwarcharan Swami), Shree Hanumanji (Pujya Shrihari Swami), and Shree Ganapatiji (Pujya Acharya Swami).
The images were then adorned with beautiful clothes and ornaments after which Pujya Swamishri performed the first Arti. After the ceremony was over he was escorted to the assembly hall. Over 10,000 devotees had assembled for this historic assembly.
The chief guests during the function included H.E. Rajiv Bhatia, the Indian High Commissioner to Kenya, Shree Manubhai Madhvani, an industrialist, Pujya Swami Tejomayanand of the Chinmaya Mission and Shree Jayantbhai Chande. The assembly was also privileged to have the esteemed presence of the High Commissioners of Canada, Bangladesh, Sri Lanka, and Uganda as well as the Ambassadors of Columbia, Poland and Hungary. The splendor and beauty of the Mandir as well as the educative and exciting nature of the Exhibition awed the guests.
High Commissioner H.E. Bhatia expressed his felicitations to Swamishri for having created the grand Mandir in Nairobi which he said would be a monument of inspiration not only to Hindus but also to the Kenyan public in general.
This extraordinary assembly ended at lunchtime after which the honored guests proceeded to the Prakash Pavillion, Premier Club for the Mahaprasad.