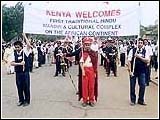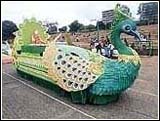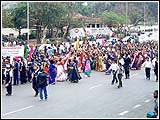 One of the most colorful events of the festival was the grand procession of dieties, that took place on the eve of the Mandir consecration ceremony. The procession was flagged off from Uhuru Park, in Nairobiís City Center, at exactly 2.50 p.m. Nine beautifully designed floats were created, which carried the idols to be installed in the temple. Never before had the Nairobians seen something as colorful and joyous as this.
The procession proceeded through Kenyatta Avenue, Moi Avenue, down the Slip Road leading to Globe Roundabout, Muranga Road, Limuru Road, and finally turned to Forest Road to enter the new Mandir. Throughout the procession the weather remained dry and cool, which proved to be a blessing for participants.
Over 4,000 people participated in the Nagar Yatra, which covered a distance of well over 10 kms. Estimates indicate that close to 15,000 Nairobians had lined up along the streets to witness the 1.5 kms long procession.
The famous Yogi Marching Band was at the forefront of the procession, leading the rest of the masses through Nairobiís streets. Shree Aksharpurushottam Maharajís boat-like float was the first among the floats and it also had a troupe of saints singing devotional songs to the accompaniment of musical instruments. This float was followed by the elegantly designed floats of Shree Bhagatji Maharaj, Shree Shastriji Maharaj, Shree Yogiji Maharaj, Shree Pramukh Swami Maharaj, Shree Laxmi Narayan Dev, Shree Radha Krishna Dev and finally the float which carried Shree Hanumanji and Shree Ganapatiji.
Amongst the participants there were saints, devotees from various centres as well as prominent members of Nairobiís Hindu Community. Hundreds of youths, teenagers and children adorned in traditional Indian costumes added spice to the grand event. All major newspapers and TV channels covered the spectacular mega - procession.At 4.55 p.m.the procession finally concluded at the New Mandir where HDH Pramukh Swami Maharaj blessed everyone with words of wisdom.