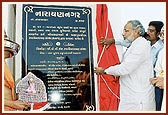 Through the inspiration and blessings of Pramukh Swami Maharaj, the Bochasanwasi Shri Akshar Purushottam Swaminarayan Sanstha (BAPS) reconstructed the entire villages of Nani Mau (now named Shrijinagar, sub-district Mandvi) and Jiyapar (now named Narayannagar, sub-district Nakhatrana) in the district of Kachchh, Gujarat.
On 25 May 2002, a grand dedication ceremony to the people of Shrijinagar and Narayannagar took place at the hands of Shri Narendrabhai Modi, Chief Minister of Gujarat.
The village construction commenced in August 2002, and in a matter of only 10 months BAPS constructed 30 quake-resistant houses in Shrijinagar (55 km from Bhuj) and 285 houses in Narayannagar (32 km from Bhuj). Each village was properly built with all the necessary infrastructure facilities like primary health centre, school, multi-purpose community hall, mandir, water and sanitation, an administrative office, roads, plantations, street lights and a main gate.
The multi-caste population of Narayannagar and Shrijinagar includes Patels, Harijans, Rabaris, Brahmins, Sonis, Valands, Darbars, Darjis, Muslims, Lohanas and Suthars. They expressed their accolades to BAPS and the donors – People of USA for reconstructing Narayannagar and the Community of South Africa and Shri Bhavnagar Nagrik Sahkari Bank Ltd for Shrijinagar.
To green the villages the BAPS planted saplings at 10 feet intervals along all the roads and 12 trees per house. In the village of Narayannagar, a special forest area 'Pramukh Upvan', spread over 10 acres, will have over 8,000 trees. In addition, four checkdams and two reservoirs will store 7 million litres of water for drinking and farming.
Both villages were traditionally inaugurated with Vedic rituals by the Chief Minister Shri Narendrabhai Modi in the presence of Pujya Tyagvallabh Swami and sadhus. Thereafter, the Chief Minister inaugurated three ambulances under the auspices of BAPS which will provide services in the rural areas. One of the ambulances was donated by St. John Ambulance, UK. The guests and dignitaries also planted saplings as part of the BAPS greening programme.
During the assembly, every resident of the villagewas ceremoniously presented with an auspicious pot and a key to his house, with a sacred betel nut and nadachhadi placed in a decorated box.
In his address to the audience of 8,000 people, Shri Narendrabhai Modi said, "The people of this village must be blessed by past merits to have Pramukh Swami Maharaj come to their rescue. And when Pramukh Swami Maharaj has held your hands then you will be blessed with redemption. I have come here to pay my respects to all of you who have become associated with Pramukh Swami Maharaj. He has given a new form of energy to the public life in society. He transcends all social boundaries of caste, creed or colour to help the afflicted and poor strata of society. Though Pramukh Swami is not much educated he has imbibed the essence of all knowledge. He has adopted modernism for the progress of our society and that is why we see transformations all around us. The BAPS has taken the utmost care and consideration of all requirements in building the houses. The checkdams and 10 acre 'Pramukh Upvan,' which will have over 8,000 trees, will supplement the environmental needs of the villagers."
Finally Pujya Tyagvallabh Swami blessed the assembly. Other dignitaries present on this occasion included the State Minister of Industry, Shri Suresh Mehta, the Legislative Speaker Shri Dhirubhai Shah and representatives of the donors.